---
---
iPhone keeps restarting loop
You're probably wondering why your iPhone keeps continuously rebooting itself. I was in the same situation a few weeks ago when I updated it to iOs 13 and it just started malfunctioning but fortunately I managed to fix it by my own and it's been working great, so I want to show you how you can repair it and revive it easily.
Force restart iPhone
First thing you should try is to  force restart your iPhone ‌  to break the ongoing restart loop. You can do this in iPhone 7 or earlier versions by pressing the Home and Power button for around 5 to 10 seconds, when you feel a vibration you stop pressing and it will restart on its own.
If you don't feel like going through a difficult procedure to repair your iPhone by yourself, try a  repair without data loss ‌  that should directly fix all kind of software issues with your phone.
If you have  an iPhone ‌  8 or a newer device you can force the restart by releasing the Volume up key and the Volume down key and then pressing the Side key without letting it go until your iPhone restarts. This is the easiest way to fix the problem but if it doesn't work on your phone, I have another solution for you.
1. Backup information in the cloud
Before we start with the second solution, make sure you have all your information backed up in the cloud with  an iPhone ‌  data backup in case anything goes wrong. Now, we're going to fix the boot loop using iTunes.
2. Put phone in DFU mode
First, make sure your iPhone is totally powered off and then you have to connect it to your computer either if it's a Mac or a PC. As you're plugging it in put it in restore mode, also called DFU (Device Firmware Update) by pressing the Power button and the Volume down button, it will probably go again into the boot restart loop but don't worry, just charge it up a bit and you can try again.
3. Repair through iTunes
Once your phone is connected and in restore mode, you'll see in your computer that iTunes found your device and detected a problem with your iPhone. You have to click update, if it says that it can't be updated, you have to put your phone on factory reset.
Once you're good to go with the update, click on Next and iTunes will download the latest iOs version and it's going to go ahead and sync-up everything to your iPhone. This process will take a little while so just leave your phone plugged in.
4. Restore data from iCloud
Once the update is finished your device will be restored, if it looks like it's boot looping, don't worry, leave it for around ten more minutes because it's still working on the restore.
After all this process, your iPhone will restart and you'll have to set it up again as if it were new and you can restore all your information from your iTunes or  iCloud backup ‌  and you'll have a working phone again.
Easier solution
That's pretty much it, I hope everything turned out okay and hopefully now you won't have to deal with this problem again, but if anytime your phone is stuck again or you know someone whose phone keeps on restarting, you'll be able to overcome the boot restart loop problem.
The easiest way to solve these issues being using a software like  ReiBoot recovery software ‌  that will repair your iPhone without any data loss, all managed by a software.
Fix 150+ Apple iPhone System Problems, like Boot Loop, Apple Logo, Stuck, Update and more.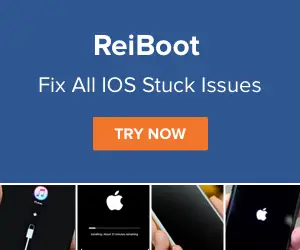 ---
---
---
---