---
---
Online dating has become more popular over the years. That makes it harder for everyone to find matches on dating apps. Everyone on Badoo wants to get more matches. More matches mean a bigger chance to meet someone you really like. Therefore, you want to give yourself the best chances of somebody matching with you.
Inside the application, you'll see that is shows the popularity. The Badoo popularity meaning is that on a given day, you got more matches and started more chats than the average persons.
We've put together some Badoo tricks that are guaranteed to get you more encounters on Badoo, from getting a top profile to get featured for free‌ on the dating application. Read further to find out more about these tricks.
Generally, you want to have at least 3 pictures on your profile. Any less than that doesn't give others an opportunity to truly find out who you really are.
Firstly, have a picture of your face. This is a no-brainer. The person looking at your profile will firstly want to know what you look like. That's what this app is for.
If you have a hobby such as running, dance or some sport, why not show it off in one of your pictures. This will ensure that you encounter someone with similar interests making your conversations that much better.
A great tip for posting pictures on your profile is to post something that really shows off who you are and what your interests are. However, do not have a shirtless picture on your profile.
It's good that you're healthy and exercise, but it's getting kinda old. Ask your friend for advice, maybe he sees something that might be putting off people that you don't see.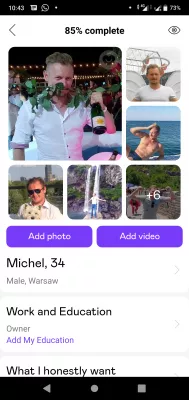 Once you have all your pictures set up, it's time to move onto your bio. That's the first thing people read and is therefore very important. It can be the difference between someone seeing you and moving on or not.
Having a few words about you, your interests, your hobbies can make all the difference. It can be used as a great ice breaker in a conversation and talked about in the future. You can also write what you're looking for on Badoo and what experience you're looking to find.
This isn't really one of the Badoo tricks but it's something not a lot of people spend quality time on.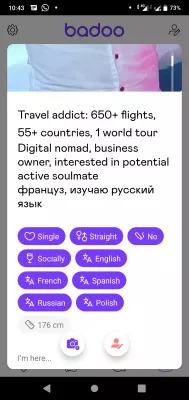 Writing Hey or Hello is perhaps the worst way to start a conversation. It is overused and saturated and people don't wanna see that anymore.
---
With all the words in the English dictionary, you can find something more clever than just Hey. Pick something from their bio or their pictures to talk about. Perhaps you have a common interest and you can have a discussion about that.
Anything goes except for the boring and old openers. Please remember though, do not make it creepy or weird. That can ruin a conversation before it even starts.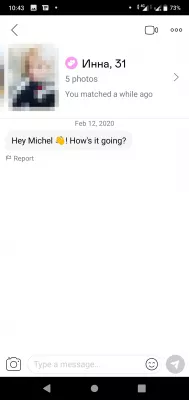 With online dating becoming more and more popular, it's harder to find matches. One of the best Badoo tricks is to be willing to spend a little extra time swiping and looking for matches.
The more you're active, the more you're likely to appear to users on Badoo - and also to get a chance to get featured for free‌ on the Badoo app.
Browse people's profiles, read their bios, look at their pics and finally, if you like someone, swipe right.
There is a Badoo swipe limit of 300 swipes right a day, and after reaching that limit in the free account, you'll have to wait an extra 24h.
However, you can lift that limit, and even get featured, by becoming premium for a small fee. See for yourself if it is worth it!
You can also get a free badoo premium of 14 days by starting a free trial - however it will necessitates a credit card code.
The trick to get it for free and not pay anything? Create a virtual payment credit card, with validity for current month only, and start the free trial less than 14 days before end of the month.
Make up a $1 virtual credit card at your bank, use it to get the Badoo premium subscription, and you'll get Badoo premium for free!
About the author - Help smartphone
He is an enthusiast technology specialist. His goal is to help everybody experiencing troubles with their phone finding the solution, and making the best use of their devices and apps.

---
---
---
---
Comments (0)
Leave a comment