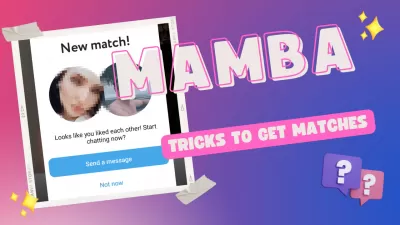 ---
---
Researching men and women, what exactly attracts a dating site and increases the chances of finding your soul mate.
How to meet on Mamba?
Mamba tricks
In the hustle and bustle of everyday life, when most of our life is occupied by work, we stop being in time for everything, and we want to do so many things. On weekends, we try to compensate for this, someone enrolls in the hall in order to get hold of the figure of their dreams, someone goes to the cinema, museums, theaters - things that develop a person's personality. And someone just loves to walk, enjoy the views around and take a break from the bustle of the city and office regime. If you have your own business, which you are passionate about, then there is a high probability that you can forget about equally important things.
Sooner or later, a person has the idea that he wants to find his soul mate. Girlfriend, friend, and if there are already such, then just find family happiness. It is much more difficult to be alone, to solve life situations, without the support of your beloved husband or wife. When you realize that you lack this and feel an urgent need, it becomes sadder and sadder every day.
There is not always time, and most importantly, the strength to meet someone on the street, in a movie or cafe.
In the modern world, it is much easier for most to start communication in the virtual world, through social networks or special dating sites. Here we will talk in more detail about dating sites.
There are different opinions on this matter. Someone says that it is dangerous to get to know each other on such sites (you never know who will get caught), and someone thinks the other way around, because they got a certain experience that they were satisfied with.
In today's reality, the Internet is not a replaceable thing, and why not take advantage of this opportunity, which gives us the chances, without departing from work and everyday affairs, to get to know a person, possibly a future life partner?
One of the popular sites is the dating site Mamba. There you can find a huge number of people, choose the criteria that should be present in a person, but this is according to your individual desires.
Over the years, the service has been improved and is now one of the most popular and multifunctional platforms for finding a soulmate, friends and just chatting. Mamba Dating App has long gone beyond the usual dating site. Today it is a real social network with a huge multinational audience, many applications and convenient geosearch.
The application has earned popularity, as evidenced by high attendance and a lot of positive reviews. The creators of the site take care of users every day, removing fakes and increasing the security of pages, making communication on the site more comfortable.
When we register on these sites, our eyes run up, and there are not always answers to the question, but how can I hook the person I like? Or, if not a specific person, then at least attract attention, which most of all relates to girls, because they love it so much.
We'll take a look at some of the Mamba tricks that many have noticed. You just have to read and use these tips.
We took this information from different sources, we also analyzed the opinions of men and women who managed to highlight several points, and we called it Mamba tricks.
So, let's begin.
What attracts men and women
In the beginning, we will talk about how men choose a mate and what methods they use.
According to our research, men have several points of view, they said that they can be hooked when viewing a profile on the Mamba website.
Provocative lettering
Surprisingly, this turned out to be the most effective way, although not always pleasant. For example, a man can create such a description: Please do not disturb girls over 60kg. Agree, not very pleasant. Someone will just pass by, but someone can be hooked so strongly, even rather angry, that the girl will start writing to find out what kind of discrimination is? But in fact, this will lead to the fact that they will begin communication and become good friends or close people. Who knows)
Non-standard question
In your description, you can ask a difficult question that can attract the attention of your interlocutor.
Be yourself
No, this does not mean that you will fit the entire audience 100%. But this increases your chances of finding "your" person. Of course, if you came with such a purpose to this dating site.
The conversation should be interesting, for many it is not secret information. You will seem trivial if you ask your partner about standard work questions and so on. It is unlikely that you will be able to interest your interlocutor in this type of communication, because besides you there are others, do not forget about it!
What situations can you face on a dating site
Mamba tricks noted by women:
Photos that are on the profile picture. A decent photo with a slight tinge of liberation. In the photo, the girl should be real, cheerful.
Honesty. When men ask why you should sit on this site, you admit your goals and openly report it
Simple communication. No need to try to show yourself from the ideal side. Artificialness has not attracted anyone yet, otherwise you may receive disappointment from your partner. Be yourself!
We also warn you that besides live communication, comfortable conversation and decent people, there is another side. Sex dating, which is actually on many other sites. Here you need to understand that you are responsible for the information that you give to your interlocutor.
If this type of communication is not your goal of coming to Mamba, then it is better to avoid such meetings and even more so not to provoke such communication. Otherwise, your photos of an intimate nature may be outside of your dialogue.
What to stick to to get your goal
Try to communicate with different personalities, but always rely on your intubation, because if you feel uncomfortable, what is the joy of this type of communication? Do not be afraid of such situations that you have to change communication or get hold of several people with whom you will conduct a dialogue.
After an online meeting, offline meetings follow. No, this is not a mandatory procedure, but it will give you a better understanding of whether the subject is right for you. One thing is virtual communication, but quite another to meet in life and try to communicate as naturally as it was in the correspondence.
One date will make it clear whether it is worth continuing further dialogue.
Do not think that the interlocutor can abruptly disappear, this happens. So this is not your person, or you are not interested in him.
Our Mamba tricks will help you in the beginning of communication on this site. Create an interesting description of yourself, do not be afraid to open up to people and remain yourself, this is the main thing!
Trick: Get the VIP status for free
Another great trick to meet more people on the Mamba app is to get the VIP status, eventually even for free! The VIP status will allow the following:
Mamba VIP status benefits
Use advanced search options: from dating goals to height and weight
Make several times more new contacts. Take advantage when you want to write to the users you like
Become invisible and you can hide your presence, age and time of visiting other people's profiles
Add vivid emoticons to your correspondence – use stickers
Learn who added you to favorites
Find out who liked you in Encounters
Get an opportunity to come back to the previous profile in Encounters
Get more votes per day in Encounters
Meet people without advertising
Mamba trick: get the VIP status for free
By choosing the 3 days VIP option for free, you can easily get the Mamba VIP status for free and without any risk by using a Revolut disposable virtual debit card for example. After having added it to your account, use it to verify your free VIP status.
After that, once your VIP status will have been activated for 3 days for free, simply delete your dispsable virtual debit card, and you won't ever be charged, even if you forget to cancel your subscription, as the card won't exist anymore!
Within a few minutes of activating your VIP status, and browsing a few profiles, you will quickly get matches with new encounters, all for free.
All you have to do now is to use your charm to convert your Mamba encounter into a real life date, with this simple and free Mamba trick!
★★★⋆☆
Mamba App
 Mamba is an easy to use dating app that allows for up to 250 free matches per day. However, this app is originally Russian and it is mostly used in CIS countries, and not so widely in the world.
Frequently Asked Questions
What are the benefits of Mamba dating app VIP status?

VIP status gives you more opportunities for dating. You will be able to use advanced search options, you will be able to make several times more new contacts, you will be able to add bright emoticons to your correspondence, get more votes per day in Encounters, and more.

How to permanently delete Mamba account?

To permanently delete a Mamba account, you can follow these steps: Log in to your Mamba account. Click on your profile picture in the top right corner of the screen. Select Settings from the drop-down menu. Scroll down to the bottom of the page and click on Delete Profile. Follow the instructions to confirm the deletion of your account.
Mamba Tricks To Get Matches
---
---