---
---
ReiBoot Free iPhone Repair Software
Ever since Apple has come out with their many smart mobile phones, many people have decided to buy them. Although iPhones are cool and ahead of their time, it doesn't mean that they are immune to the issues that usually happen to some smartphones, without necessarily having to perform a factory reset and lose all data.
For example, a plain screen that is black or that is stuck in the Apple logo could possibly mean  an iPhone ‌  that is stuck or frozen in  recovery mode ‌  and that needs an hard reset for example.
The ReiBoot repair software to save you
A great and even free iPhone repair software that is smart for iPhones is known as ReiBoot recovery software. The ReiBoot free iPhone repair software can easily repair your iPhone device without the frustration of any information loss. The ReiBoot repair software was initially created by the developer team Tenorshare.
It is Tenorshare which completely committed themselves to the creative designing of intelligent software that can overcome many problems in various iOS devices. The main focus of this free iPhone repair software is completely on iOS system repair itself.
Therefore, if you happen to be dealing with any issue that has to do with iPhone problems, updating iOS, or just by performing daily things in your iPhone, ReiBoot is recommended to surely get your iPhone back to the way it should be.
Simply Enter And Exit Recovery Mode With One Click
With ReiBoot's quick and intelligent recovery software, they make it really easy to exit and enter iPhone  recovery mode ‌  with a simple click, therefore preserving your data just right. This is a completely free feature found in the  ReiBoot recovery software ‌  too.
Repairing iOS System to Fix 50 Plus iPhone Issues Without Any Data Loss
No worry when using the ReiBoot software. Whatever issue you may experience, this software will definitely help fix it without getting rid of any important data on your iPhone. Certain problems like a frozen screen, network problems, or application crashing can easily become fixed right after the iOS system recovery.
Factory Reset Your iPhone Device Without Your Password
This is a very advanced feature that comes with ReiBoot recovery software. If you have ever forgotten your iPad or iPhone password or maybe you can no longer complete a system restore by way of iTunes, by simply using this feature on the recovery software can really help you out.
What it does is it actually completes a full factory reset of your iPhone device without the need of your iTunes or passcode. Cool, huh?
Overall usage of ReiBoot software
The ReiBoot software is easy and simple to use. You will not have to steer through a multiplex interface to figure out how to operate this recovery software. You can download the ReiBoot free iPhone repair software tool directly to Mac or Windows, and then proceed to connect your iPhone device right to your laptop or computer by way of a good USB cable cord.
This free iPhone repair software is great for many iPhone or iPad users who have been searching for a good, free iPhone repair software that is simple and easy to use, and works better than using a  backup to iCloud ‌  that might not always allow to get back all information after having performed a repair.
Get your  ReiBoot recovery software ‌  copy now to repair many iPhone system problems: iPhone frozen, iPhone stuck on Apple logo, and more, without any data loss!
Fix 150+ Apple iPhone System Problems, like Boot Loop, Apple Logo, Stuck, Update and more.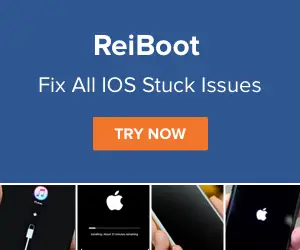 ---
---
---
---