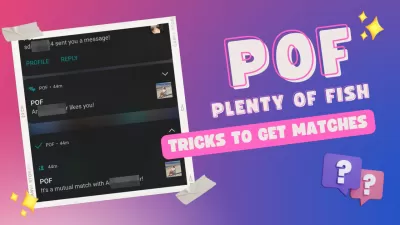 ---
---
Dating apps have become very popular, and there are so many of them out there you might wonder which of them is worth your time and money.
One of the currently popular dating apps is called Plenty of Fish (nicknamed "POF"). Its title comes from the saying, "there are plenty of fish in the sea;" implying there are lots of new potential romantic partners. Its website greets you with a picture of four smiling young people. It boasts 3 million members signing in each day. It lets you know you can search for things which are important to you. It also lets you know one of its unique features: the ability to live stream a virtual visit with a potential mate.
Plenty of fish (POF) is one of the oldest dating apps with over 150 million registered users in 20 countries. Before you learn how to use POF, you should know that this is a place for people who are looking for dating and love around the world.
I've been on lots of dating sites, and I've learned a savvy app user can use insider information to maximize their ability to make an ideal match. POF's popularity means the members often get multiple messages a day, so it helps to know how to make your profile as attractive and alluring as possible. Here are some ways to increase the possibility that your profile brings a maximum chance of a great match.
Is What They See What They Get?
The first impression a user has is your profile picture. In my own dating app experience, I notice the picture before anything else. I decide about the person based just on the pictures. It's important to choose photos which were taken recently, and which show your face plainly. A smile goes a long way to convey friendliness. Be sure the photos upload clearly to the app. It's probably a good idea to include two or three different pictures.
Don't Wait Until It's Too Late
POF users have lots of choices, and if you think you may want to meet someone after the initial exchange of "likes"; you should ask the person for a date as soon as you feel the connection. You paid for the service, and it would be a shame to waste weeks messaging someone when you could be meeting them. Some female users of the app may be waiting for the man to extend the invitation. If you don't ask; you might never meet them. (2)
There Are Lots of Folks to Like
Just because you "like" someone's profile doesn't mean they will return the "like". It also doesn't mean a guaranteed date. Because POF is so popular, you have to click on as many choices which spark your interest. If you like them, go ahead and click.
Paint a Positive Picture
Keep the popularity of the app in mind when you write your profile message, and again when you message those with whom you will match. Describe yourself in complimentary terms.
Once you match with someone, keep your messages honest but positive, No one wants to hear all your physical, financial, and family problems - before they even know you.
Your Introduction Should Catch Their Attention
Saying you are single, attractive, and have a good sense of humor - and you enjoy long walks on the beach is probably going to result in a quick left swipe (left swipes are the way you say "no" to a potential match). Finding a clever or humorous way to describe yourself could lead to more potential matches. You should definitely avoid using negative phrases to describe yourself, and a blank introduction will probably result in an empty inbox.
Find Out Who Was "Last Online"
If you want to be sure the profiles you look at are active on the app, use the "last online" feature when selecting which profiles to search. It will avoid wasting time on people who don't regularly check or use their profiles. You can choose to search members who have been on the site in the last 3 days, or just those active in the last 24 hours.
Let Them Know Who You Are
Choosing a clever username can get the attention of someone who might be a good match. Choosing something like "SexyGuy" or "SoccerMom" may lead a potential date to think you are not worth pursuing. (1)
Using these tips - or some you might find for yourself when you use the app, may help you attract just the person you are you are led to. Good luck!
★★★★☆
Plenty Of Fish App
 POF lets you know you can search for things which are important to you. It also lets you know one of its unique features: the ability to live stream a virtual visit with a potential mate.
Frequently Asked Questions
What is the Plenty of Fish app?

Plenty of Fish app is one of the currently popular dating apps. It has 3 million members every day. In the application, you can exchange "likes", and then invite a person on a date.

Is POF mobile app free to use?

Yes, POF is a free dating app. However, there are some premium features available that require a paid subscription.
---
---