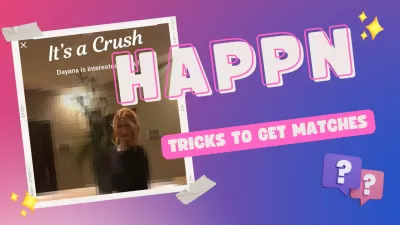 ---
---
Dating can be difficult today. It might not be easy to meet people so more and more singles are using online dating apps. People can communicate online before they ever meet in person. Happn is a dating app that you might want to get to know more about.
What Is Happn Dating App?
Happn dating app is an app that uses your location to suggest the closest possible dating matches. When you find yourself close to a person who matches your characteristics, his profile rises to the very top of the search feed. After that, you can view the photos of the candidate, mark him as liked and start a conversation.
The fundamental difference between Happn and other dating services is that the application is based on the interaction of people in real life.
Happn dating app was released in the year 2014. It allows users to view each other's profiles and like each other. Then, they are able to communicate with each other. By getting to know someone online, it's easier to meet in person and see if a relationship can pick up from there. You don't want to give out too much personal information until you are sure that you want to know and talk to the person more. This will protect you online from people that are not good.
Happn Tricks And Tips
Once you are on the Happn dating app, you may need some suggestions so that you can up your chances of finding someone fast. You want to have a nice selection of matches to pick from so you may need some Happn tricks and tips to help you reach your goal. Take a look at these Happn tricks and tips so that you can implement them right away. You'll love the outcome that you'll receive:
1. Go On The Site Daily
You want to go on the site daily. Be sure that you answer the messages that you get. If you wait too long, the other person may lose interest and you don't want that to happen.
2. Boost Your Profile
There is a button in the upper right corner of the screen on the Happn dating app. You can boost your profile so that other singles will see it more. Getting more matches will allow you to find the singles that interest you the most.
3. Photos - Pick Your Best Ones
The site lets you have up to 9 photos. You want to make sure that you pick your best ones. Your photo is one of the ways that you attract matches so it pays to have good photos. An average of 3 is a good number to stick with.
4. Have Someone Read Over Your Profile To Offer Suggestions
Have a friend or relative read over your profile. Get their suggestions so that you are putting your best foot forward so to speak. You want to stand out from the other singles on the site and this is one of the ways that you can.
5. Make Sure Your Profile Is Interesting Too
It's important that your profile be interesting. Include things that will attract singles to you. List out the activities that you like to do so that other singles will see them and find that you have a lot in common.
6. Verify Your Profile So Matches Know Your Legit
You can verify your profile on the Happn dating app so that other people know that you're legit. This can help to get you more matches so that you will have a better chance of finding someone.
7. Update Your Profile
Every 6 - 12 weeks, you should update your profile. Make it different and better than ever before. Put in more information. You can make it like a story instead of listing out the things that you want in a person. This will help in many ways because it's very interesting.
8. Move to busy locations
As the Happn dating app is location based, you will actually increase your chances of crossing paths with more people by moving to busy locations, such as malls, walking streets, or any kind of event that attracts lot of people, that will potentially also have the location based dating app turned on.
The more active you are and the more places you visit during busy time, the more chance this HAPPN trick will bring good results to your dating game!
9. If Inactive For A While
If you've been inactive for a while, you'll want to scratch the profile and start it over again. This will give you a better chance of getting more matches. Learn from the past profile and correct anything that you can to make you stand out from the rest.
10. Play the CrushTime card game
From time to time you will be invited to play specific games to find out people that want to meet you on HAPPPN application under the bell menu. The first one is the shortlist, which directly shows you 3 persons selected for you.
The other game is called CrushTime, and will show you successively a group of 4 profiles, in which one of them has already expressed interest to meet with you. If you select the right profile within these 4 pictures, you will directly get a new match, a chance to start a new conversation and to meet someone new on HAPPN!
Conclusion: Meet New People On HAPPN
When you're on the Happn dating app, you want to make sure that you are getting the attention that you deserve. Use the Happn tricks and tips that are listed above so you can get as many matches as possible. Follow up with the ones that you like so that you can communicate and make a move to meet in person. Be polite and interesting at all times so that you can have a great relationship that will last for a long time.
★★★★☆
Happn App
 Based on location paths crossing, the Happn dating app original way of interacting with people physically close to you offers interesting opportunities to meet new people.
Frequently Asked Questions
How often do you need to be Happn online to find true love?

The best advice is to visit the site daily. Make sure you reply to the messages you receive. If you wait too long, the other person may lose interest, and you don't want that to happen.
Happn Tricks To Get Matches
---
---