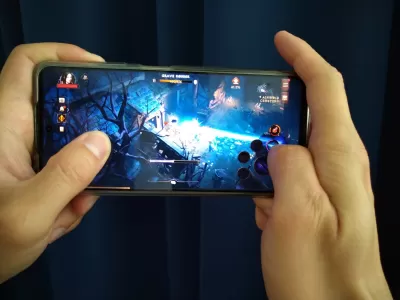 ---
---
We can go on to the technical section of the post, where I will describe the best phone for Diablo Immortal, now that we are aware of the current classes, creatures, and thrilling experiences the game contains.
With this list, we hope to provide you with clear guidance about which phone to purchase for gaming and ensure that you have the greatest possible gaming experience. then let's get going!
The top 5 mobile phones to play Diablo Immortal
Key Principles
Astonishing Price/Performance Ratio
At a relatively low cost, you may purchase a phone that is highly powerful.
Large Display
The 6.67-inch screen is quite impressive. Particularly at this pricing. A notable increase is the 120 Hz refresh rate that it provides.
Robust Chipset
One of the key benefits of this phone is its powerful chipset, the Snapdragon 860.
Complete Review
The greatest low-cost smartphones right now on the market are definitely the Poco X3 PRO as well as F3.
The 6.67-inch IPS LCD screen of the Poco X3 PRO also has a fast refresh rate. A 120 Hz refresh rate is typically only seen on more expensive smartphones, but this one features it as well. In short, this greatly improves the smoothness of scrolling, video playback, and gaming, among other display-related advantages. Additionally, HDR10 is supported, and the phone has a Full HD screen.
This particular phone is the only one with the Snapdragon 860 and Adreno 640 CPU. In its class, it provides some of the finest performance. The Poco X3 PRO completely outperforms the Galaxy A52 using Snapdragon 720G. It is two times as powerful as Samsung's mid-ranger in regards of gaming performance. Additionally, it is far less expensive. The phone can actually perform better than almost every other mid-range phones.
Although an 8 GB version might be available, the most likely configuration is the one featuring 6 GB of RAM. The 6 GB model is sufficient for both daily chores and playing the most difficult games. You can still choose the 8 GB option, which gives your phone a bit more flexibility in the future. The 8 GB variant can either have 128 / 256 GB of storage, while the 6 GB model comes of 128 Gb storage by default. You won't have to worry regarding running out of space because it also supports microSD card expansion.
The 5160 mAh battery of the Poco X3 PRO is sizable and enables charging at up to 33 W. The battery will be recharged to 60% of its capacity in around 30 minutes, which is really impressive. A somewhat more expensive alternative is the Xiaomi Poco F3, which is superior in every way. The display is still 6.67 inches and 120 Hz, but it is now AMOLED, features HDR10+, and has a higher brightness level. Snapdragon 870 as well as Adreno 650, an upgraded version of Snapdragon 865, power the phone. It might be said that it follows the Snapdragon 888 as the best chip available. It has 6 / 8 Gb ram built in.
Things We Like / What Could Be Better
Exceptional value for the budget
The 6.67-inch display at 120 Hz is fantastic. Particularly in light of the price
Even for the most demanding current games may be played smoothly on the Snapdragon 860 chipset.
A big 5160 mAh battery provides a long period of autonomy.
When playing strenuous games, it will become warm. For optimum heat dissipation, we advise playing even without silicon case if at all possible.
The phone gets hot when using 33 W of fast charging. This is typical, but to prevent double heating, we don't advise playing whatever games while charging.
Key Principles
Performance/Price Ratio
You actually get a reliable and powerful phone at that pricing point.
Strong Hardware
Even more demanding games are easily handled by the powerful Snapdragon 870 chipset.
Battery
Exceptional battery life.
Complete Review
Another excellent and more economical gaming phone is the Motorola Moto G100. The flagship Snapdragon 870 as well as Adreno 650 processors, an upgrade to last year's Snapdragon 865, power it. It might be said that it follows the Snapdragon 888 as the best chip available. There are two RAM options: 8 or 12 GB.
It sports a sizable 6.7-inch IPS LCD screen with a refresh rate of 90 Hz. Even if the AMOLED 120 Hz screen is currently available at this price, this is still acceptable.
It is also important to note that there are two punch holes in the display, which can be quite irritating when performing games or watching films.
With a 5000 mAh capacity, the battery is rather huge and does have a lengthy lifespan. Unfortunately, the phone can only use 20 W of rapid charging.
Despite a few flaws, this is still a really quite functional phone that won't break the budget. As a result, we suggest Diablo Immortal as among the best phones.
Things We Like / What Could Be Better
Excellent value for the money
Even more demanding games are easily handled by the powerful Snapdragon 870 chipset.
exceptional battery life
20 W maximum fast charging
For some users, the display's two punch holes can be distracting.
Key Principles
Strong Hardware
Among the most potent chipsets available is still the Snapdragon 888.
Design
The design is still sleek and appealing even though it isn't the newest phone.
Amazing Display
Excellent 120 Hz AMOLED display for a fluid viewing experience.
Complete Review
Another excellent phone for Diablo Immortal is the Samsung Galaxy S21 & S21 Ultra.
High Definition resolution and a vibrant display with a 120 Hz refresh rate are both features of the Samsung Galaxy S21. Nevertheless, depending on what you're doing, it can decrease to as low as 48 Hz. The S21's display is 6.2 inches whereas the 6.8-inch screen on the Ultra model is enormous.
The Snapdragon 888 processor as well as Adreno 660 GPU are both used by the Samsung Galaxy S21. It can also be run on the Exynos 2100 CPU. What kind of processor as well as GPU users really get depends on the area. In that case, it has a Mali-G78 MP14 GPU.
It used to be the case that Exynos chipsets greatly surpassed Snapdragon chipsets in terms of performance, heat, and battery life. Exynos chipsets from Samsung have nearly caught up to Qualcomm in the previous few of years and are currently only behind by a hair.
It goes without saying that both chipsets can smoothly handle even for the most taxing games.
Again, 8 GB of RAM in the normal version is more than adequate for any contemporary game. The Ultra edition is available in 12 / 16 GB versions if you are a very heavy user and require more.
The S21's battery has a low 4000 mAh capacity. Long sessions of gaming will soon drain your battery. Once more, the 5000 mAh battery pack of the Ultra edition makes this improvement.
To summarize The S21 is a pretty capable gaming phone that ought to be adequate for the majority of users. especially if you dislike extremely large screens. On the other side, you also have the Ultra version, which is a gaming phone beast and still performs admirably in general usage.
Things We Like / What Could Be Better
Apart from A14 Bionic, Snapdragon 888 is the most potent processor available right now.
intriguing and contemporary design
120 Hz refresh rate on a great AMOLED panel makes for a fluid gaming experience.
Nice daily use experience owing to the One UI
The normal version's 4000 mAh battery is quite modest. We advise purchasing its Ultra version featuring 5000 mAh batteries for longer battery life.
Thermal throttling difficulties with the Snapdragon 888 are occasionally reported.
Key Principles
S Pen Built-In
The S pen responds quickly.
Superior Cameras
Any circumstance won't affect the camera's performance. Performance, particularly in low light, has improved.
Amazing Display
Bright dynamic AMOLED display.
Complete Review
One of the greatest smartphones for Diablo Immortal is unquestionably the Samsung Galaxy S22.
Simply remarkable is the 6.8-inch vivid AMOLED display. Actually,  a smartphone   can only be that big. When observed from the front, the display doesn't appear to have any borders because the long edges are gently curved. The display quality is excellent, and the resolution is exceptionally good with 3088 x 1440 pixels.
The highest SoC from Qualcomm, the Snapdragon 8 Gen 1 of 2022, is installed in devices sold in the USA, while Samsung's own Exynos 2200 is utilized in devices sold in Europe. It makes use of AMD's RDNA2 graphics architecture for the first time. The GPU, dubbed Xclipse, provides hardware-accelerated ray tracing, a feature that hasn't previously been available on smartphones. Samsung claims that console-quality mobile gaming is feasible.
What initially seems positive turns out to be false: In artificial tests, the S22 Ultra obviously surpasses its predecessor but falls short of such an iPhone 13 Pro. Better results are also obtained by the S22 Ultra with such a Qualcomm SoC, particularly in benchmarks requiring a lot of graphics. Nevertheless, benchmarks aside, the phone with the both chip types is a powerhouse, and even when playing the most taxing games, you won't ever notice any lagging.
With the S22 Ultra, you always have the appropriate instrument at hand—like it really is the Swiss Army knife of photography. However, it is not flawless, as is frequently the case with universal tools. The primary camera impresses with exceptional image quality in strong light (108 megapixels) or really high image quality (12 megapixels), and it also performs superbly in low light. The telescopic modules impress with ideal lighting and work in perfect harmony with one another. The super-wide-angle module is the last and is very reliable even in low light.
You won't be dissatisfied regardless of whether you are thinking about this phone because of its cameras or performance.
Things We Like / What Could Be Better
Built-in faster S Pen
extreme brightness
Cameras perform better in low light.
more rapid 45W charging
Pricey
less battery life as the S21 Ultra
Key Principles
A15 Bionic Apple (5 Nm)
The Apple A15 Bionic (5 nm) chipset in the iPhone 13 Pro contains two 3.22 GHz Avalanche cores and four X.X GHz Blizzard cores.
XDR Oled Super Retina Display
This 6.1-inch Superior Retina XDR OLED screen offers a fantastic 1200 NITs of maximum brightness along with a 120hz refresh rate.
3095 Mah Li-Ion Battery
quick charge (23W, unofficial rating). The phone charges to 50% with Apple's 20-watt charger in 30 minutes.
Complete Review
Just a little bit smaller, the iPhone 13 PRO is essentially the same thing as the iPhone 13 Pro Max. Although the smaller size may be attractive, it also imply that perhaps the screen as well as battery aren't as large. This year, Apple has approached the iPhone PRO model differently.
This year, you won't need to worry about the differing cameras between both the iPhone 12 Pro & Pro Max. The 13 Pro is constructed around a 6.1-inch display rather than a 6.7-inch one because size matters. Even though it weighs more than just the iPhone 13, it is still more simpler to use one-handedly than that of the pro max. The structure is nothing less than premium, much the same as the pro max thru. The stainless steel frame as well as corning glass back are IP68 rated, meaning they are resistant to dust and water up to a depth of 6 meters. A new feature for this series of iPhones is a reduced notch cutout for something like the selfie camera and facial ID tag.
Things We Like / What Could Be Better
excellent chipset.
long-lasting battery.
Exceptional value for the money spent
Final Thoughts
The ideal gaming smartphone is about high-quality and loud sound that provides full immersion in the game, and compatibility with various accessories, including gamepads and additional screens.
To find out what phones can play Diablo Immortal - check the list above.
Since there are so many options available on the market, picking the ideal phone with Diablo Immortal certainly not even an easy task. You should first consider your budget before looking for phones that fit the specifications.
To ensure that your game will operate properly, a general rule of thumb would be to aim for the minimum required specifications or even higher, even if there are upgrades or new versions.
Also consider playing Diablo Immortal alternatives if you like this kind of games or eventually if your phone cannot run it properly!
Frequently Asked Questions
What are the best Diablo Immortal compatible devices?

For Diablo Immortal, the phone must have special technical capabilities. For example, you can consider options for Xiaomi Poco X3 Pro and F3, Motorola Moto G100, Samsung Galaxy S21 and S21 Ultra, Samsung Galaxy S22 Ultra and iPhone 13 Pro.

What are the minimum requirements for playing Diablo Immortal phones?

According to the official Diablo Immortal website, the minimum requirements for playing the game on a phone are as follows. Android: Android 5.0 or later, at least 2GB of RAM, and a minimum screen resolution of 1280x720. iOS: iPhone 6s or later, iPad Air 2 or later, iPad mini 4 or later, and iPod Touch (7th generation) or later.
---
Explore Your Business Potential: Discover Our Range of Transformative Courses Today!
Unveil the power of knowledge with our diverse array of courses, from Operational Procurement in S/4HANA to SEO essentials. Elevate your expertise and drive success in your business ventures.
Get your course
---
---