There are plenty of dating apps around, and it can take up a lot of time to find the right person especially when navigating between different apps.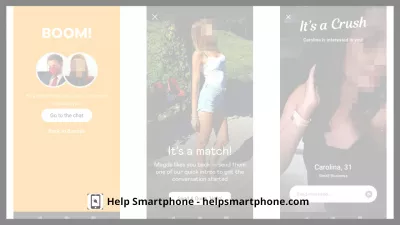 ---
---
Best dating apps
There are plenty of dating apps around, and it can take up a lot of time to find the right person especially when navigating between different apps.
4 best dating apps
Bumble dating app
With a unique concept in which after matching, ladies only can start chatting and have got 24hours to message men and start the conversation before the match disappears, the Bumble application works better at starting real conversation. However, with lower amount of users, the matches are more seldom there.
Bumble dating app
Badoo dating app
Very popular worldwide, as it is one of the oldest dating app, and former social network, the Badoo dating app has plenty of users and potential matches for everyone. With a few Badoo tricks anyone can get valuable matches, and meet new people!
Badoo dating app
7 Badoo Tricks
Happn dating app
Another application with a unique concept, as Happn dating app only lets you find users that you have crossed path with, based on your GPS localization, and therefore needs to have access to your geolocation information. Matches might be more complicated there, as possible swipes are limited to people you've crossed path with, but at least you are sure that they are in a geographically close area.
Tinder dating app
For a few years now the most popular app, Tinder has a large user base worldwide, and although at the base it was conceived as a hookup app, it is used more and more to find reliable dates and get interesting meetings.
Tinder | Dating, Make Friends & Meet New People
Travel and Dating Site | travelgirls.com
The travel and dating site travelgirls.com is a great place to meet educated people that are generally looking for more serious relationship, starting by traveling together if possible.
The app is free to use for ladies, and men can respond to messages for free and of course browse female members.
However, it is worth getting a paid account to be able to contact anyone, and the price is affordable, at 2€ per day at best, with more chances to get real meetings.
If using some Badoo tricks is not working for you, then these feedbacks might help you find the right application to meet your second half from your mobile phone!
Which is the ONE dating mobile app that brought you the best result? Do you have an interesting story, or trick to get noticed to share?
Imani Francies: Coffee Meets Bagel has more people interested in building a connection
Coffee Meets Bagel is a dating app that I found most useful. Unlike Tinder, Bumble, and other dating apps, this one felt more genuine.
As a new mom, I wanted to meet new people and have a romantic life but I could not get out of the house as I used to.
Aside from that, being a mother made me aware of our society's climate so I was weary with going out and driving alone in certain cities. Being said, this made dating sites my only option.
Coffee Meets Bagel had more people interested in building a connection. Not just interested in sex.
Being a new mom, I had to make myself 10 times more appealing within my profile. I used a profile picture with good lighting that showed my abdomen and face so men would see I was attractive in my face and my body. I did not show my butt or too much of my breast because I did not want to send the wrong signal.
Lastly, I used descriptive and attractive language when describing myself so my life would seem appealing. The key is to ooze a positive vibe because people are naturally drawn to happy vibes.
Discover Meaningful Online Dating with Coffee Meets Bagel
Imani Francies is a car insurance specialist at CarInsuranceCompanies.com
Stacy Caprio: Coffee Meets Bagel because people want to get to know each other
My favorite dating app that I've tried is Coffee Meets Bagel, because the people on this app seem more interested in having a relationship and meeting in person to get to know each other, than many other apps. Other apps such as Tinder seem more interested in quick one-time flings.
Discover Meaningful Online Dating with Coffee Meets Bagel
Stacy Caprio, Life Coach, Stacy Caprio Inc.
Samantha Moss: Tinder is fun - but at the same time risky
Online dating is becoming more popular as more mobile dating applications are being developed nowadays. Tinder is one of the best dating apps I've tried because I found it fun, but at the same time risky. I can tell that this match-making app actually works. As a matter of fact, 40% of Americans use online dating.
SOURCE
And this shows us that there are a lot of people still hoping to find their luck of finding that special someone in the virtual world.
Here are two helpful tips to make your Tinder profile get noticed:
* SHOW YOUR PERSONALITY THROUGH YOUR PICTURES. Placing a too formal picture may describe you as too serious and someone who's not easy to approach. For example, you can choose a picture of you doing your favorite sports if you're like a person with an athletic personality. Without reading in your profile, people will already have an idea on what you love to do.
* MAKE AN ATTENTION-GRABBING BIO. Adding a sense of humor to your profile texts will catch someone's attention to swipe right. And also this tells the person viewing your profile that you are not a boring date and you should also prove that when you two are already chatting.
Tinder | Match. Chat. Date.

I am Samantha Moss, editor and content ambassador at Romantific - where the mission is to provide actionable dating and relationship advice that will help take control of romantic life.
William Walker: eHarmony has the best success for long-term relationship
*eHarmony brought us the best results* I've seen the best success with eHarmony when looking for long-term relationships. It's really hard to beat both the number of users that eHarmony has and their ability to match you to the type of people that you're looking for. They recently reduced the length of the questionnaire you have to take but it still works better than anything else I've seen.
eHarmony also tends to have users that are a little more motivated to actually chat and meet up. Going through a longer signup process seems to filter out the people who are just looking around which leaves the more motivated daters. If you are looking for a long-term relationship eHarmony is our first recommendation. Make sure you create a full profile with the most interesting things about you. This is one site where people actually read them!
eharmony | Online Dating Site for Like-Minded Singles
William is a Dating & Relationship Coach who has been coaching online and 1:1 for the past several years. He has had great success with both male and female clients and loves sharing the secrets he has learned through his own personal experiences.
Aleksandar Hrubenja: Bumble puts the power in the hands of women
The one thing that differentiates Bumble from just every other dating app out there is the woman makes the first contact rule. As most guys know, we are the majority across most online dating websites and apps, which can be overwhelming for many women. Bumble is one of the most balanced dating apps in terms of demographics, with men clocking in at about 55% of all users.
What stands out about Bumble is that puts the power in the hands of women, allowing them to choose which guys they want to talk to and make the first contact. After matching, women have 24 hours to make the first contact. Bumble also keeps simple, allowing for only a 300-word bio, which keeps things to the point.
On popular dating apps such as OkCupid and POF, people can spend endless hours writing extensive bio's that resemble the Lord of the Rings in length. I feel that takes out a lot of the mystique of meeting someone new, not to mention leaving little to talk about on the first date. So I find Bumble to be my favorite app these days for anyone looking for a serious relationship online. As they say, women are always right, so let them choose you!
Bumble - Date, Meet, Network Better
For as long as he can remember, Aleksandar has been passionate about languages and writing. He started ModernGentlemen.net to share his insights on fitness, health, and self-improvement, as well as lighter ones like geekdom and pets, he prides himself on being able to tackle any topic you throw at him.
D. Gilson: Grindr is the most-widely used app for the gay community
My favorite dating app is a gay standard: Grindr. A lot of people - myself at times - make fun of it when we hear the distinct notification sound it dings from one of our friend's phones. But in reality, it's probably the best and most-widely used app specifically for the gay community.
One benefit I love about it: since it's GPS based, it's a great app when traveling. I can't tell you how many people on Grindr have offered me bar, restaurant, museum, or shopping recommendations when I've been traveling. On a recent trip to Atlanta, a guy on Grindr told me about a special theme night at a local gay bar that was raising money for an Atlanta-based HIV/AIDS organization. I went and had one of the best nights, and I wouldn't have found out about it if not for talking to that guy on Grindr.
Grindr: Home
D. Gilson, PhD, writes and researches for QuickQuote.com and has taught writing and popular culture studies at the university level for more than a decade.
Sonya Schwartz: OkCupid let the user know about their compatibility
OkCupid is my best and number one choice in the world of online dating apps. It first asks you a lot of questions for setting up a detailed profile. Later on, you could also add the type of answers you like from your potential partner. It calculates the percentile score to let the user know about their compatibility. We could change the answer's privacy setting from private to public, along with setting their importance score.
By doing so, people could know that they are going to approach the right person or not. Their quick match features allow you to skip seeing any information on the profiles and display the pics of potential partners. You can click the one you like or message them instantly.
Despite the detailed profile and the person's personality clues, sometimes it becomes difficult to break the ice. It brings the awkward moments in the first conversation, and in many cases, the first conversation becomes the last.
So, I just thought to add some exciting ice breakers to my profile. I added some questions like "favorite movie, and why?" It could be any game like "1 truth, 1 wish and 1 lie" These all are the open-ended questions that grab the attention of the other person and create an urge to answer for fun. Afterward, they ask you the same questions, and the conversation begins overwhelmingly. It is like finding the start of the tangled rope; now, you can straighten up the whole rope in some time.
The same happened to me, one entirely unknown person started the conversation with me through those questions, and now we are close. The answers themselves start generating funny and interesting questions. So, we start enjoying and do not get bored after a few minutes.
OkCupid: Free Online Dating
Sonya Schwartz, Relationship Advice Expert at Her Norm
Sarah Mayfield: Coffee Meets Bagel deletes chats after eight days
Coffee Meets Bagel is one of the useful apps which now doesn't require Facebook to open a new account, but accounts can also be created by verifying the phone number. The Bagel you receive on this app gives you an opportunity to meet your possible perfect match. I met with my life partner through this app.
After seeing the ideal Bagel, there is an open opportunity for you two to get to know each via a private chat option. You get 'beans' after properly using the app. Beans enable you to get benefit from the rest of the features of the app. Beans can be earned through communicating with friends and logging in daily. One of the features of the MeetsBagel app is that the chats are deleted after eight days.
Discover Meaningful Online Dating with Coffee Meets Bagel
My name is Sarah Mayfield and I am the Founder of Romatific. I started Romantific – to help other women, currently struggling in their relationships, with their love lives, so that they can hopefully find happiness more quickly than I did.
guutoby: Fairytrail is a dating app for remote workers and travelers
I found out about Fairytrail at a party in San Francisco and I really like it. It's a dating app for remote workers and travelers. Since I can work remotely as a software engineer, I live where I like, and it's a pretty amazing life. But it's hard to find a partner who can also travel and work around the world like me. When I use apps like Tinder, there's almost no chance of a relationship-- and I don't like how much swiping is involved.
I'm loving Fairytrail because everyone on it is highly mobile and loves traveling. It's so cool to just match with the person and jump on a video call. If she's cool, I don't mind moving over to her city for a few months to date and explore the city.
For example, I met a cute girl from it and after video chatting for a couple weeks-- we had our first date on a turtle snorkeling tour in Taiwan. Now we're both in Canada. So it's a really fun app. I highly recommend it.
That said, it does a few days to match because they do slow dating, and it's definitely not for everyone.
Fairytrail - Best Virtual Dating App For World Explorers
Canadian Digital Nomad. Software Engineer. Snowboarder. Photographer.
Frequently Asked Questions
What is the most popular dating app for travel lovers?

Dating and travel site travelgirls.com is a great place to meet educated people who are usually looking for a more serious relationship, starting with traveling together if possible. The app is free to use for women and men can reply to messages for free and of course view female members.

What are the Top 10 US dating apps?

The top 10 dating apps in the US can vary based on popularity and user preferences were: Tinder, Bumble, OkCupid, Hinge, Match.com, Plenty of Fish (POF), Coffee Meets Bagel, Grindr (primarily for LGBTQ+ community), HER (for LGBTQ+ women), eHarmony.
---
Explore Your Business Potential: Discover Our Range of Transformative Courses Today!
Unveil the power of knowledge with our diverse array of courses, from Operational Procurement in S/4HANA to SEO essentials. Elevate your expertise and drive success in your business ventures.
Get your course
---
---