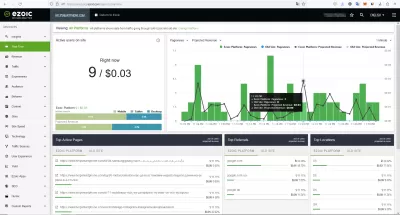 ---
---
Monetizing a technology website such as Help Smartphone is not always a simple task, as we are mostly offering content to solve simple problems, with an audience coming for quick and simple answers.
However, using  EzoicAds monetization   technology we were able to earn $313.81 in January, a satisfying result given the current situation, low ad spending, and the specifics of January month, usually the lowest earnings and no big increase in visits, and we will see below what were our best performing articles for the month of January, and which revenue they generated so far.
Highest EPMVs in January
Having a look at the Web pages income report, let's see which ones are the top 10 EPMVs for the month of January on our technology niche website, taking in consideration our English pages with at least a hundred views during that period.
Our article about secret phone codes and hacks for a Motorola phone has brought in $5.72 with 132 visits thanks to a $43.31 EPMV, which accounts for 4.91% of the visits for that month, but for 35.93% of the total earnings, showing that a higher EPMV is more important than a large number of pages viewed, as a higher EPMV can bring larger earnings with fewer efforts.
The LycaMobile activation codes that allow to turn on the mobile data after having inserted a LYCA sim card in your smartphone is also an evergreen popular article on our website.
In the month of January, it brought $1.49 in revenue, with 114 visits and a high $13.10 EPMV, which is still a great result for an article that has been written in 2018, one of the first articles on this website.
This simple article about updating your AppleID number after changing SIM card on some of the iPhone models is always useful, and brought the 3rd highest revenue on our website for this selection, with $2.68 earnings for 208 vists and a $12.89 EPMV.
Our round-up of expert social media management tips has got 101 visits in January, for a revenue of $0.81 and an ePMV of $8.06, showing that it is worth keeping articles focused on a precise topic to drive the earnings per thousand visits up.
This simple article has basically been a simple copy and paste of pitches provided by external contributors, which is a little out of context for the website, but still manages to be in the top 5 articles for this month of January, which has a low income.
If your device has ever experienced this error, you might be in for a big unpleasant surprise: a corrupt device has little to no chance to ever turn on again, and any data stored on the phone is lost forever - or would take a huge amount of work to recover, without any guarantee of success.
This article received 109 visits over the last month period, with $0.69 earnings for a $6.43 EPMV.
Best temperatures to earn money with a technology website
Using  EzoicAds mediation   platform, you can even know which local temperatures the most profitable for you, in terms of any metric you like!
But let's have a look at our earnings per visitors local temperature during their journey on our smartphone related website.
Our highest earning times in EPMV are the following:
Between 0 to 5°C: $200.47 earnings - 63.89% of the spectrum
The best temperature for us to try to attract visitors on our website is actually between 0 and 5°C, which is the most common temperature in January!
This time is equal to our largest audience of the day, which explains the higher earnings, while it is not our highest EPMV for the day at all, $3.48 per thousand visits being actually one of our worst earnings in this month.
Between 5 and 10°C: $48.72 earnings or 15.5% of the total, with higher EPMV
The second highest earnings is in the 5 to 10°C temperature bracket, in which the EPMV is nearly 50% higher than the one with the highest visits.
There is no correlation though between higher temperatures and higher earnings: our best EPMV in the period, $5.69 actually happens between -5°C to 0°C, the second best EPMV of $5.43 occurs between 10°C to 20°C, and the third best in this slot, between them.
While the standard temperatures do not seem to have much effect on earnings, the extreme ones are actually pretty interesting.
Lowest paying slot: -30°C to -20°C, with $0.23 and lowest EPMV of $0.72
Unsurprisingly, the lowest earnings and EPMV are occuring when temperatures are quite extreme, with similar EPMVs for both -30°C to -20°C and 30°C to 50°C.
This is most likely explained by the fact that people in these temperatures are looking for quick answer, and don't have time to click or view ads, which is understandable given their local conditions!
In conclusion: monetizing a technology website
In order to monetize your technology related niche website or smartphone website, make sure to write helpful articles dedicated to lesser known devices, to monetize with  EzoicAds monetization   platform to increase your display advertisement revenue and get access to exclusive reports in Ezoic Big Data Analytics, and target your users in temperatures close to the most common one, but not the most common one, and avoid targeting visitors experiencing extreme temperatures!
---
About the author - Michel Pinson
Michel Pinson is a Travel enthusiast and Content Creator. Merging passion for education and exploration, he iscommitted to sharing knowledge and inspiring others through captivating educational content. Bringing the world closer together by empowering individuals with global expertise and a sense of wanderlust.
---
Explore Your Business Potential: Discover Our Range of Transformative Courses Today!
Unveil the power of knowledge with our diverse array of courses, from Operational Procurement in S/4HANA to SEO essentials. Elevate your expertise and drive success in your business ventures.
Get your course
---
---