Messengers have gradually become a part of our life. They allow you to keep in touch with loved ones regardless of distance, transfer photos and videos in a few seconds.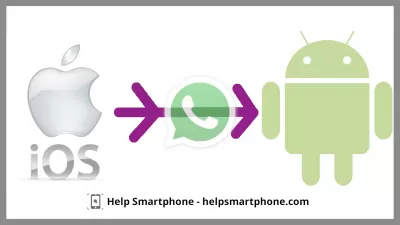 ---
---
Basic Ways to Export WhatsApp Chats from iOS to Android
Messengers have gradually become a part of our life. They allow you to keep in touch with loved ones regardless of distance, transfer photos and videos in a few seconds.
Messenger is a program for communication on the Internet that is installed on your smartphone. In simple words, this is a mobile application that supports instant messaging. A great example is WhatsApp mesengger - this is the number 1 program for communications.
The What's App is no exception, millions of users communicate through it, terabytes of data are transferred through it every day. This article will discuss how to transfer chats from an iOS device (Apple technology) to an Android device.
Two popular ways to transfer data
In fact, when importing data from one device to another, not only chats are transferred, but also all existing files: settings, contacts, passwords, even draft messages. When using standard file transfer using an application, there is no difference in the operating system of the devices, since with this option, the procedure for importing files is the same for everyone.
However, in addition to this, there are several more ways of transferring data, they all have their own advantages and disadvantages that should be considered when choosing. All of the methods listed below work only in one direction, i.e. when the import is from an iOS device to an Android device, and not vice versa.
Method 1: transfer messages via email
One of the most straightforward ways. There is a function inside the application that allows you to transfer chats (only them and the files inside) via email. To carry out the transfer, you need to do the following:
Go to the chats section inside the messenger;
Select from the entire list those transcriptions that you want to move and make a swipe to the left (move your finger);
After the swipe, several items will appear, among them you need to select More;
In the More section, you need to select the export chat option.
Before exporting, the user will be asked to send chats with or without files (messages only). When sending chats with attachments, the time that will be spent on export will increase. After that, you will need to select the place of sending (Mail) and wait for the end of the operation.
To open chats, you need to go to the mail on your Android smartphone, the files will be sent in the form of a letter with the subject What's App Chats. This method is quite convenient, but it has a significant drawback - it is not synchronization, i.e. messages sent in the letter will not be reflected when entering the messenger from an Android device.
Method 2: Export by creating a backup
There is a backup function in the messenger settings. Through it, you can also transfer the necessary chats.
This is done as follows:
On an Apple device, you need to create a backup copy of the files contained in the messenger;
Through the Settings tab inside the application, you need to find the Chats item;
After clicking on Chats the user will be offered several options that can be applied, among them you need to select Backup;
If such copies have already been created before, the user will be prompted to select any of them or create a new one (Create a copy).
After creating a copy, you will need to delete the WhatsApp application from the iOS device and install it on the Android device. When you open the messenger on an Android device, a message will pop up stating that a backup has been found (it is stored in the cloud). To transfer all files, chats, settings, etc. you need to click the Restore button. After a certain amount of time, a complete transfer of all data will occur.
iCareFone - WhatsApp Transfer is a program that is specially designed for iOS devices. It is designed to quickly transfer all data from the WhatsApp messenger from various devices from Apple to devices running Android.
In fact, this application combines all the mentioned methods of transferring files: in it you can create backups, transfer certain categories of files. Since transferring files between two operating systems can be problematic - using iKeyrFon will help to avoid this, save precious time and nerves.
The program works on all PC operating systems, except for Linux.
In order to transfer chats using this program, you need:
Download the latest version from the TenorShare website, install and open;
Take Android and iOS devices, connect them to the computer via wires;
If the connection is successful, both devices will be reflected in the application menu;
Following the instructions inside the program, you need to create a backup copy of the files on the main device (i.e. on the device from Apple);
After the transfer process is completed, the user will be asked to enter a phone number, this is a standard procedure that will allow you to verify the account owner in the messenger;
Verification goes through SMS. After entering a special code in the field that appears, you will need to wait until the collected data is transferred to the Android device, the approximate operation time, percentage of completion and other information will be displayed in the program interface.
Frequently Asked Questions
What are the ways for WhatsApp transfer IOS to Android?

There are several ways to transfer WhatsApp from IOS to Android. You can use email transfer, you can export by creating a backup, or you can use the iCareFone tool.
---
---