Your own Vkontakte group is a great way to earn conditionally passive income. The main thing is to competently approach the matter and choose the right way to monetize. So, here's how to make money using the VKontakte group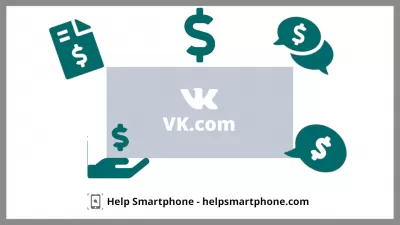 ---
---
How to make money using the VKontakte group
Your own Vkontakte group is a great way to earn conditionally passive income. The main thing is to competently approach the matter and choose the right way to monetize. So, here's how to make money using the VKontakte group
There are only two free methods for promoting a group in VK - inviting friends and potential customers manually and mutual PR. These methods usually have low efficiency. They will not work if the group needs to be promoted quickly and if your target audience is not among your friends.
To achieve more effective results, you need to use paid promotion methods. It is paid methods that will help you make high-quality VK monetization.
Vkontakte social network
Where to start: Finding topics and creating a group
Here is a small instruction on how to create a successful VK group.
You can create a Vkontakte group yourself or buy a ready-made one. It is also worth thinking about the topic and promotion in advance. Let's take a closer look at these steps.
Choice of topics
One of the main conditions for a profitable Vkontakte group is the correctly chosen topic. Which will not only be of interest to users, but can also be commercially successful. At the same time, it is desirable that the group could be monetized in different ways, and not just some one. For example, a public page with humor or with cute cats will be difficult to monetize. But a group about travel or fashion is quite easy.
The target audience also matters. She must be solvent. Therefore, it is more profitable to select topics that will be of interest to people aged 25+.
Examples of topics that are easier to monetize:
Travel and tourism. Here you can write posts about beautiful and interesting places, publish life hacks for travelers. The most obvious way to make money on such a group is to publish affiliate links. For example, on hotel booking services, on services for buying railway and air tickets, on online stores with goods for travelers.
Fashion and style, cosmetics and personal care. You can post affiliate links to online stores with clothing and cosmetics. Collaborate with beauty bloggers and beauty salons.
Interior, decor, renovation, household goods. Online stores with furniture, finishing materials and decor items are suitable.
Psychology and relationships. In this case, it is possible to advertise the services of psychologists, as well as affiliate links to dating sites.
Children and parenting. You can write about the peculiarities of caring for small children, about upbringing, about the psychology of adolescents, etc. From the possible ways of earning - advertising of goods for babies and children; toys and children's clothing; services of a psychologist; bloggers working on the same topic, children's furniture, etc. You can also advertise all kinds of goods for women, since they are the main target audience of such communities. Everything will do: from cosmetics and clothing to beauty salons and shops.
Cities. We are talking about communities dedicated to a particular city or, for example, a village. Then you can advertise local entertainment, shops, etc.
Health, sports and nutrition. It's simple - vitamins, nutritional services, fitness trainers and fitness clubs, online stores with sports nutrition or vegan products, sports and yoga products, etc.
The most difficult topics to monetize are education, philosophy, business and humor.
Create or buy a group
It is easier and faster to purchase a ready-made group. Such a community already has a ready-made subscriber base, a set of posts and a formed audience. You can buy a group in different ways:
By contacting the owner directly. Usually the owner is already indicated in the group itself - in the Contacts section. You can write to him about your proposal and discuss the conditions. The main thing is not to run into deception. For safety, it is better to transfer only part of the amount first. And even better, if possible, is to purchase not only the group, but also the owner's account itself. Also ask for confirmation that the community really belongs to the seller. To do this, ask for a couple of minutes to make you an admin.
On forums dedicated to SEO, internet business and marketing. For example, Searchengines or Antichat. Sale and purchase announcements can be found in the respective sections.
Through the exchange. This is a safer and more convenient option. The exchanges offer a whole list of groups of different social networks. Each community already has a price tag. However, deception is also possible here. Often, public owners add bots to subscribers, and then sell the community at exorbitant prices. So you need to demand statistics from the seller and independently evaluate the group, looking at the ratio of views / likes / reposts.
You can buy the Vkontakte community on the Telderi exchange. This is one of the oldest and most trusted sites you can trust. Telderi ensures the security of the transaction, and to get started, you just need to register. By the way, you can also purchase a Telegram channel there. How to buy a Telegram channel is explained in detail on the site itself.
Buy VKontakte groups to monetize with the help of your smartphone
Promotion and development
For the growth and development of the group, you need to constantly advertise it and try to make interesting original posts. Now there is huge competition in the VK network, so it is difficult to advance with an ordinary public.
To begin with, while the group is small, you can buy advertisements in other public pages with similar topics. In groups of 2000-9000, one advertising post can cost 15-50 rubles. This is quite a bit. In larger groups (from 10,000 to 100,000 subscribers), one repost can cost 100-400 rubles.
Then, as the audience grows, you can start advertising in larger pubs and even millionaires.
Advertising in other groups and public VK is the most effective way to promote. However, you can also use targeted ads from Vkontakte, free links on forums and links from other social networks.
Ways to make money on the Vkontakte group
There are two main types of group monetization on Vkontakte: official (from the social network itself) and unofficial (when the public is used as a source of traffic to other sites). In the first case, you need to connect the community to the Vkontakte advertising network (RSVK). The second usually uses affiliate links to products.
Let's look at different methods.
The main ways to make money on the Vkontakte group:
Connect the group to the VK advertising network. After connecting, advertisements will automatically start showing in the group. You don't have to do anything - just keep posting content and work to grow your community. However, in order to connect a group to the RSVC, the community must meet strict requirements. Have unique, high-quality content, nice design and suitable theme.
Collaborate directly with advertisers. If you have a million-strong group, big well-known brands and bloggers will contact you. If you have a small public, you can offer advertising to small companies.
Offer ads to other groups and publics. Often, other publishers advertise their sites in groups with similar topics.
Offer ads to bloggers. For example, Instagram bloggers or youtubers.
Place ads through third-party sites. There are special services for monetizing public pages. There you can offer your group to different advertisers. To do this, you can use services such as Blogun, Sociate or Epicstars. You publish a link to your group, wait for approval and indicate your price for advertising. After that, you will start receiving applications from advertisers.
Publish posts with affiliate links. The most popular and easiest way.
Sell ​​your own products. This is the most difficult, since you have to take care of the logistics, procurement of goods and their additional promotion.
Let's take a closer look at the last two methods. There are many platforms that you can use to connect to affiliate programs or run advertisements. Here are some of them.
1. Direct links AdSterra
AdSterra is an international advertising and affiliate network.
AdSterra direct link monetization is a convenient option for those who work with traffic from social networks where you cannot insert a banner or other code.
In addition to direct links, you can create landing pages or drive traffic from the public to your own website.
transparency of work
user-friendly interface
low site requirements
AdSterra direct link monetization
2. Direct links PropellerAds
Popular ad network. He works with topics such as blockchain, dating, prize draws, sports betting, binary options. In PropellerAds, monetization of direct links also helps to comfortably earn from the group.
wide range of topics
transparency of work
detailed statistics
PropellerAds direct link monetization
3. Travel links TravelPayouts
TravelPayouts is an affiliate program that allows you to earn money on hotels and air tickets. Ideal for a group about the culture of different countries, tourism and travel. Links for booking travel can be placed directly in the post.
If a user clicks on your affiliate link and, for example, books a hotel or buys a ticket, you receive a commission. It is possible to earn several thousand rubles for one sale, depending on the amount spent by your referral.
There are no requirements for the quality of the site. You can start with any group in your arsenal.
quick start
flexible settings
high income opportunity
profitable niche
quality support
unguaranteed earnings
inconvenient personal account (subjective)
Travel booking links
4. Recurring affiliate programs
Recurring affiliate programs are affiliate programs that pay commissions multiple times or periodically. You get a commission for every purchase your referral makes, not just the first one.
The most famous programs of this type are provided by the following networks: SemRush, Aweber, LeadPages, Shopify, and GetResponse.
the possibility of obtaining a lifetime commission
absolute freedom of action
unsecured income
requires the ability to interest in the product
Frequently Asked Questions
Is it possible to make money with direct link AdSterra?

AdSterra direct link monetization is a convenient option for those who work with traffic from social networks where you cannot insert a banner or other code. In addition to direct links, you can create landing pages or drive public traffic to your own site.

How to get Adsterra direct link?

Go to the Adsterra website (https://adsterra.com) and create an account. Sign in and create an ad campaign. Once you've set up your campaign, you'll be provided with an ad code or tracking URL. This code or URL is a direct link to your Adsterra campaign.
---
Explore Your Business Potential: Discover Our Range of Transformative Courses Today!
Unveil the power of knowledge with our diverse array of courses, from Operational Procurement in S/4HANA to SEO essentials. Elevate your expertise and drive success in your business ventures.
Get your course
---
---