---
---
A modern person cannot imagine his life without a smartphone. But what if your device goes dark and does not turn on? Hang in iOS mode? Gives an error when working with iTunes? All these and other problems can be solved using the ReiBoot application, which we will consider today.
You can download the application to your computer from the official  Tenorshare reiboot ‌  website by selecting the operating system you need (Windows or Mac).
After installing the trial version, the application shortcut will appear on your desktop.
how to use reiboot for iphone?
ReiBoot will repair devices stuck in recovery mode, DFU, stuck on the loading screen, rebooting devices, devices stuck on the lock screen, devices invisible to iTunes, and devices that constantly think they have headphones connected to them.
Download and install ReiBoot on your Windows or Mac.
Connect iPhone to computer with original cable and unlock on iPhone.
Click the Enter  recovery mode ‌  feature.
Successfully enter recovery mode.
What specific problems will ReiBoot solve?
1) Device errors.
iPhone does not turn on or freezes - apple is burning, sensor is not responding; the device cannot be updated; does not reboot; constantly reboots; not charging.
2) iTunes errors.
iTunes error while synchronizing with iOS; Error installing or connecting to iTunes iTunes error updating or restoring iOS.
IPhone Recovery
1) Connection.
Open the application and connect your device to the computer. If your device is not recognized by the computer or it is impossible to enter a password, click on the link at the bottom of the "Fix the Operating System" screen.
Select your iPhone model and follow the instructions directly from the app.
You can now enter recovery mode.
2) Standard and Deep recovery modes.
By clicking the "Start" button, you will begin to restore the system without losing personal data. Make sure that your device has at least 800 MB of free space, and charge the phone to at least 10 percent before proceeding (if possible).
At the bottom, you can also select the Deep Recovery mode. The process itself is identical to the standard mode. Use it if your device still will not work after the classic operation. Deep recovery in itself is more effective in solving problems with your smartphone, but it acts radically, erasing all data from the iPhone.
Use it, as you know, is only a last resort. Do not worry, with most problems when the phone hangs, the standard mode will easily cope.
3) Recovery mode.
After your iPhone is connected and ready for recovery, check if the model of your device is correct.
The firmware version is determined automatically. If this does not happen - just click on the Copy button in the lower right corner. You will be redirected directly to the official website with a link to download the firmware. After downloading, which takes just a few seconds, click the Select button in the lower right corner and download the firmware manually.
You can start downloading the firmware to your iPhone. The file takes about 4 GB, so it may take some time.
Now your device is working properly. Otherwise, repeat the operation using Deep Recovery Mode.
Subscription Purchase
You can buy a license directly in the application by clicking on the key symbol in the upper right corner. You will be redirected to the official website, where you can choose the subscription you are interested in.
Among the proposed options you will find:
1) Subscription for 1 MONTH (includes 1-5 devices and 1 PC). Its cost is about $ 38 at a discount;
2) Subscription for 1 YEAR (includes 1-5 devices and 1 PC). Its cost is about $ 40 at a discount;
3) Subscription to "FOREVER"! (Includes 1-5 devices and 1 PC). Its cost is about $ 50 at a discount.
In addition,  ReiBoot applications ‌  also have special annual offers:
1) Annual subscription for 6-10 devices and 1 PC. Its cost is about $ 52 at a discount;
2) Annual subscription for 11-15 devices and 1 PC. Its cost is about $ 58 at a discount;
3) Annual subscription for an unlimited number of devices and 1 PC. Its cost is about $ 380 at a discount.
The application has a simple and convenient interface, so restoring your iPhone will not be difficult.  Tenorshare reiboot ‌  is suitable both for personal use and for companies. It is worth noting that when buying a license you will be available around the clock support service in case of any problems.
Fix 150+ Apple iPhone System Problems, like Boot Loop, Apple Logo, Stuck, Update and more.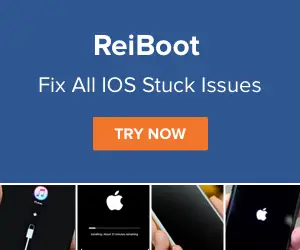 ---
---