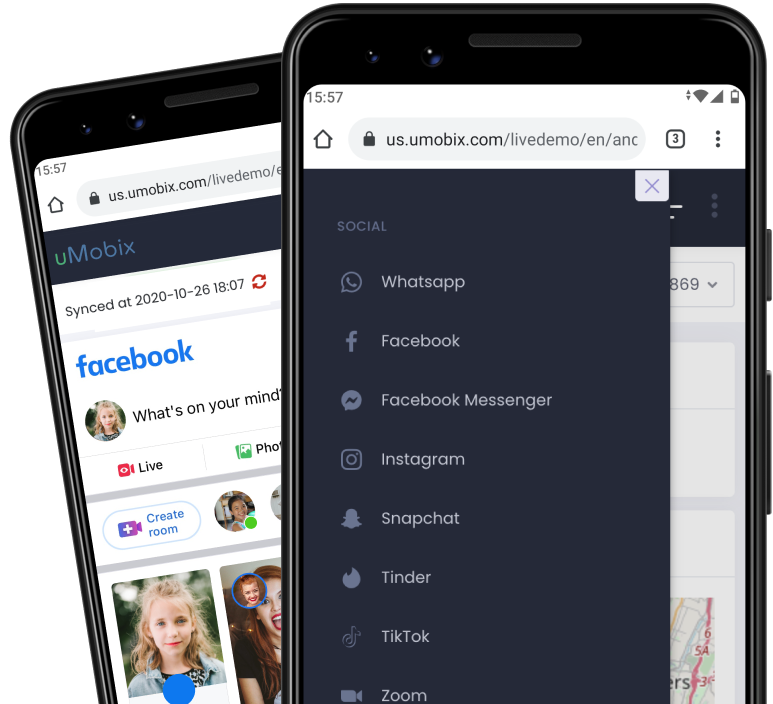 ---
---
The usage of social media is growing exponentially. The numbers keep increasing day by day. Convenience, seamless connection with new people, and quick information drive any user towards Facebook, Twitter, and Instagram.
Despite the benefits, these platforms, especially Instagram, are often used for unethical and criminal pause. What if you suspect one of your loved ones of any such activity? If so, you may want to track his messages to ascertain your doubts. How to see someone's Instagram messages without them knowing? UMobix is the best solution for this situation.
How to see someones Instagram messages without them knowing?
Instagram is a popular social media platform that people use for various chores. A significant number of individuals have their presence on this captivating platform. People share videos, private messages, and photos over this social network.
Many brands and professionals also tap the power of Instagram for their business and household activities. However, the same platform can be used for cheating, identity theft, and criminal activities. It's best to stay alert to avoid becoming a victim of undesirable activities. That's what Instagram message tracking does for you.
Ways to track Instagram messages
Now that you know the possible instances of dangers, you may want to spy on your loved ones for betterment. So, how do you track someone's Instagram messages? Here are your options!
Direct logins
A significant number of people use Instagram on their mobile throughout the day and stay logged in. If the person in your attention follows this pattern, it's easy to check his messages. All you need to do is have access to his phone physically. If you can do that, you can find out abusive messages or undesirable chats on Instagram.
First of all, you want an excuse to take the handset in your custody. You can do that in many ways. For example, you could say that your phone's battery has drained and you need to make an urgent call. When you do that, make sure that the said person is busy with other chores. Now, pretend to make a call and check the messages. Within moments, you should figure out what types of messages are exchanged between your child/spouse and others.
Use uMobix
Direct logins only work if the person stays logged in to his Instagram account. Also, you need to have physical access to the handset. If any of the two possibilities is missing, you can't check the person's text messages. It's here uMobix comes into play.
The app lets you check someone's Instagram messages remotely. There's no need for physical access to the phone persistently. You just need the handset once to install the app. Here's how to do that!
First of all, sign up for the service. Next, get familiar with the various features of the app by browsing the website. Once you know what you can expect from the service, it's all about your subscription. Just fill up a form with the required details and follow the installation procedure. Within a few seconds, you should be up and running. Now, install the app on the said handset.
The best part is you can remove the app icon from the device. By doing so, you're able to track the messages of the said individual without his knowledge. You can monitor the phone location, call logs, and chats of the user. Based on your findings, you can take a suitable course of action to check your child's or spouse's behavior/situation.
Some folks think that using a spy app might be an expensive proposition. Yes; it's! However, UMobix's features come at a cost-effective rate. There's no need to burn your wallet for the monthly charges. Also, the benefits you derive recoup the cost quickly.
Bottom line
Instagram today is an important part of everyone's life. You can not only share your events online, but also build a business there. For example, you can showcase your products and services, introduce you to the team behind the business, or even just share what excites you.
That is, in your correspondence can be your whole life. That is why the question arises - how to see someone's Instagram messages?
Monitoring someone's Instagram messages could be the right option in some situations. A timely action based on Instagram messages can save your relationship and your child's behavior. It can also keep you from becoming a victim of identity theft or similar incidents. However, you should track the said person's messages without his knowledge. UMobix turns out to be the best solution in this respect. Sign up for the service, install the app, and get ready to track someone's Instagram messages.
Frequently Asked Questions
What useful features does uMobix have?

This is a great phone tracker App with which you can track messages, track phone location, call logs and user chats without the person knowing.
---
---