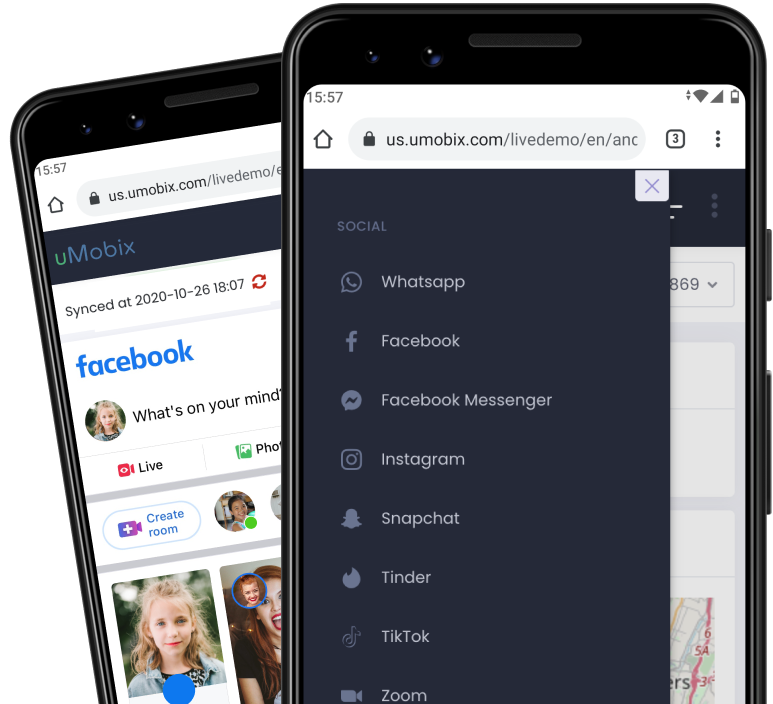 ---
---
Smartphones have emerged as one of the most powerful innovations for mankind. Whether it's a business or an individual, mobile phones come in handy for a myriad of chores. Even students and household women prefer a handset to connect with their loved ones. You can also use mobiles for entertainment and online browsing. Many youngsters even find their lifetime partners on social media through Smartphones. However, this sophisticated technology is also misused for various activities. What if your boyfriend is cheating on you? If so, you'd like to know - how to hack my boyfriends phone? UMobix provides an answer to this question.
How to Hack My Boyfriend's Phone?
Finding your potential life partner is something that words can't describe. You start thinking of a lovely relationship and a comfy future. What if you're suspicious about your boyfriend? You may also want to figure out his whereabouts before making a bigger commitment. Hacking his phone is an option for such scenarios. That should help you figure out the truth. Still, the question remains - how to hack your boyfriend's phone?
Ways to hack my boyfriend's phone
When it comes to hacking someone's Smartphone, you've two options. Let's check each of these possibilities to make the right decision.
GPS tracker
First, you can use a GPS tracker. This option lets you know the location of the device in real-time. Accordingly, you can determine the whereabouts of the person carrying the handset. If the first person visits an undesirable place, you can find that location through the GPS tracker.
However, this approach has its downsides. You can only figure out the location of the person. You won't know what the person is doing at that place. The individual in question may likely visit a suspicious place for a different reason. If so, your inferences won't work and will give you the wrong results.
Take another scenario! What if your boyfriend doesn't visit an undesirable place? If so, you'll conclude that he's a good person. However, he may cheat on you in various ways. So, GPS tracking isn't the right solution.
Use uMobix
Hacking your boyfriend's phone means you want to know everything about him - the places he visits, the people he contacts, and the messages he exchanges with others. If you can inspect all these activities, you can conclude whether your boyfriend is worth your commitment.
That's what uMobix does for you (read our uMobix review). The app is a handy piece of software that you've to install on your boyfriend's handset.
You just need physical access to your partner's phone once. Before you do that, sign up for uMobix subscription by filling out a form with some basic details.
Next, get familiar with the features of the app. That will let you know what you can expect from uMobix. Now, head over to the installation procedure. The whole process is straightforward and doesn't involve complex functionality. Even an average person can install the app without any issues.
Once you install the app, remove the icon quickly. By doing so, you can get into your boyfriend's phone without his knowledge. Now, you're ready to track the location of your boyfriend through his Smartphone location. Not just that, you may check his call logs and chat history. Based on this information, you can easily determine whether or not you should proceed with your relationship.
If you're still hesitant about this app, check out real user reviews. Go through each feedback and find out how happy those subscribers are. You could be among these satisfied customers too. Most importantly, you don't have to dent your wallet for uMobix subscription.
Bottom line
Unauthorized access to  a smartphone   can be used, for example, to gain access to payment details and Internet banking applications, or to subscribe to paid services and make purchases in online stores at your expense.
But the goal can also be track boyfriends phone. If there are suspicions of infidelity or betrayal, then checking the phone is the first thing that comes to mind.
Finding the background of your boyfriend is essential before proceeding with your relationship. If you fail to do so, you could land in a nightmarish situation. Hacking his phone is the best solution to track his activities. Although it's possible to know the location of your boyfriend through GPS tracking, it won't give you comprehensive details. UMobix is the best solution to get access to your boyfriend's call logs and text messages. By using the app, you can figure out whether your boyfriend is a worthwhile individual or not. Accordingly, you can take the best course of action.
Frequently Asked Questions
How to track someone location with phone number?

In order to discreetly track someone's phone, then use the uMobix application. You will be able to get into the phone without the knowledge of the user. You can check call logs and chat history, location history, browser history and more.
---
---