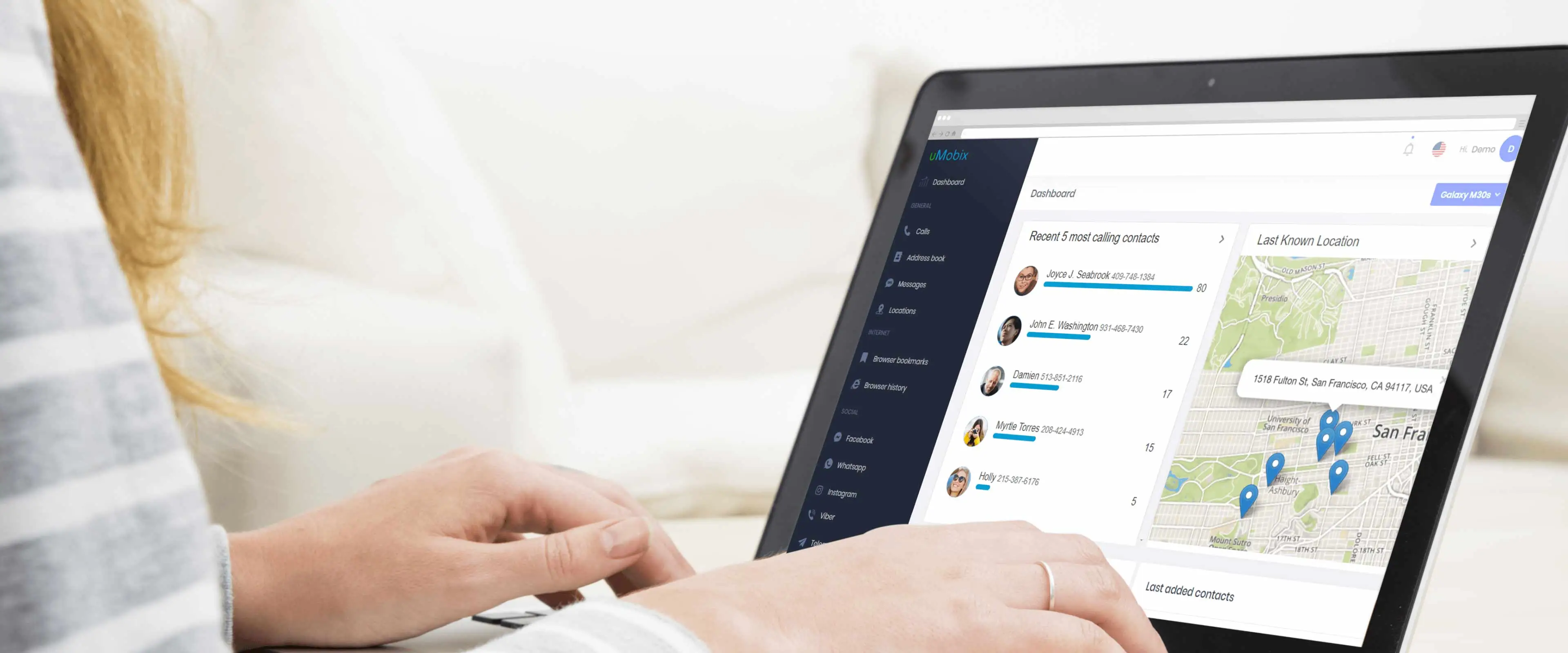 ---
---
The advent of the Internet and Smartphones, especially the iPhone has transformed the lives of people. You can carry out various activities right from your computer desk or cell phone without visiting offline outlets. Whether you wish to learn, shop, or chat with others, iPhones let you accomplish your goals. However, technology has its dark side as well. Many folks, especially youngsters use Smartphones and the net for undesirable activities. You may want to track your children and loved ones through their cell phones. However, the main question is how to track an iPhone? UMobix is one such option that can resolve your worries.
How to track an iPhone?
If someone owns your Apple ID, they can track your activity through special apps or on icloud.com, even if you haven't shared your location with anyone before. Therefore, if you have suspicions, then first of all you should change your iCloud password. Today you can really track any iPhone, there are a lot of ways.
When it comes to locating and monitoring cell phones, you've a couple of options. However, not all approaches work well as desired. As an intelligent person, you may want to explore all possibilities to make the right selection. Let's dig deeper to find ways to track a Smartphone. That should also help you to make an ideal decision.
1. Find my iPhone option
Any Apple iPhone comes with this handy feature. It allows you to track your device in case you lose it. You may use this feature to find the location of your children too. Remember, anybody who has access to your Apple ID can use this option. So, it's essential to have a unique and strong password to block access to this useful feature.
You may set up "family sharing" and track the handset's location with the help of your family members as well. The default settings let you do that. Just tap the "find my phone" feature on your handset. Go through the settings and get familiar with the entire process. Within minutes, the option gets ready to track the phone yourself and/or through the help of your loved ones.
2. Bluetooth tracking
You can use Bluetooth tracking on any Smartphone to keep an eye on the handset. Using this option is effortless. If you choose this option, you can find the location of your phone within a given range. Your handset gives off Bluetooth radio signals that are easily identifiable for tracking the phone's location.
However, Bluetooth tracking has several disadvantages. First of all, hackers may fingerprint the imperfections in the transmission signals of the device and jeopardize your privacy. You can overcome this issue through diligence and an updated antivirus program. Still, Bluetooth tracking will only let you know the location of the device. So, you can only find out where your children are. You can't figure out what they're doing.
The above-mentioned phone tracking options have certain limitations. For instance, a child can go to the settings of the phone and block the tracking of the device. This point also holds in the case of location tracking through other devices. When that happens, you can't find the whereabouts of your children. So is there a solution? Of course! UMobix comes into the picture here.
UMobix is an app that lets you track not only the location but also the activities of your kids online. All you should do is register your subscription plan, uninstall the device on the desired iPhone, and you're all set. After installation, you can monitor the whereabouts of your children. This innovative app gives real-time updates about what's happening through the device.
UMobix lets you access your child's contact list, text messages, and browser usage. You can also check the call logs and photos/videos that your children have downloaded. On top of that, the app provides the GPS location of the handset in real-time. The beauty of uMobix is you can make it invisible by removing the icon from the device. By doing so, you can track the activities of your child without his knowledge.
Bottom line
Technology has proved to be a boon to mankind. The introduction of iPhones is a special mention, thanks to their varied usage and features. Although iPhones come in handy for various purposes, they can be misused or may get lost accidentally. However, you can resolve your worries by monitoring your device. Follow the above advice on how to track an iPhone, especially the usage of uMobix. Weigh the pros and cons of each approach in great detail to make an ideal decision.
Frequently Asked Questions
How to track any iPhone?

Use the UMobix app. This app allows you to track phone location, and user activities on the web. All you have to do is register your subscription plan, delete the device on the desired iPhone, and you're done.

How to uninstall uMobix on the phone?

To uninstall uMobix, follow these steps: Locate the uMobix app on the device where it is installed. Press and hold the uMobix app icon until a menu appears. Look for an option, such as Delete, Delete, or an icon that looks like a trash can. Drag the app to the trash icon or select the uninstall option to remove it from your device.
uMobix Review And Complete Demo: Cell Phone Tracker For Parents
---
Explore Your Business Potential: Discover Our Range of Transformative Courses Today!
Unveil the power of knowledge with our diverse array of courses, from Operational Procurement in S/4HANA to SEO essentials. Elevate your expertise and drive success in your business ventures.
Get your course
---
---