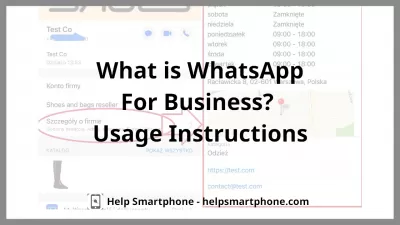 ---
---
The relatively new  WhatsApp Business   app released in 2019 is great news for small business owners. WhatsApp is the most popular application in the world today, so it should come as no surprise that  WhatsApp Business   outperforms similar apps in many ways.
WhatsApp Business is a free app for Android phones and iPhones designed specifically for small business owners. With WhatsApp Business, businesses can easily communicate with customers using automation, sorting, and quick message response tools.
This account has many advantages over the standard account in WhatsApp. It will greatly help to run your small and medium business.
You will be able to use two separate WhatsApp applications on one phone.
At the same time, it is not at all necessary to have a phone with two SIM cards. In addition, the functionality of the new application will help you simplify your business, create product catalogs, mailing lists and much more. In this article, we will understand what  WhatsApp Business   is, who is it for, and how it differs from its predecessor.
Installing the app
WhatsApp Business is available in a free version:
Compared to WhatsApp, this application has the letter "B" instead of the phone icon.
Steps to Install WhatsApp Business App
Make sure your phone has a company SIM card. Confirm the number by entering the activation code to verify your number.
The application will ask you to open access to your contacts. Do this to make it easier for you to add your customers to your new profile.
Enter Company name, upload a profile photo (for example, your company logo), and select from the list the category your business falls under.  WhatsApp Business   offers several categories, including: 1) automotive services; 2) clothing, entertainment; 3) beauty / hygiene and cosmetics; 4) education; 5) finance; 6) grocery store; 7) hotel; 8) restaurant 9) charitable organization and others.
Your profile is ready to use.
Setting up tools for your WhatsApp Business profile
Now that you've created your business account, the app will redirect you to the tools settings for your business. You can do it right away, or at any other time convenient for you. What kind of tools are available in the app?
Company profile.
Here you can 1) add a short description of your firm and what it does; 2) days and hours of work (here you can choose one of the options: enter specific days and hours of work, choose always open, or choose by appointment only); 3) address (you can enter it manually or select the location on the map); 4) e-mail; 5) website url.
Thus, from the client's side, your profile will look something like the below picture.
Creating a directory.
Here you can add services or products. Click Add New Product. Next, upload a product photo (or several). All downloaded media files are saved in the application, so you can not be afraid of data loss in case something happens to your phone. Next, write the name of the product. Optionally, you can also add a price, description, url for your product, and even a product code. This way you get 100% configuration with your online store or other website that sells services and products. Thus, you no longer have to send your goods / services to each client separately. Everything will be publicly available for every customer who contacts you.
The catalog will be available to the buyer in the company profile. So, as you can see in the upper picture, or directly in the chat. The store icon will appear in the upper right corner, by clicking on which, your client will be taken to the catalog.
The catalog from the buyer's perspective looks like this:
In the picture above, on the left side, there is a catalog with all products. In my case, he is only one. At the very bottom is the message "Looking for something else? Write a message to Test Co "and the button that opens the chat. On the right side of the picture, you can see how each individual product is displayed.
Agree, it looks very professional and thoughtful. And this despite the fact that the application is absolutely free.
Communication tools.
Awesome feature to customize automatic replies. Which, in turn, will simplify the process of communication with your client as much as possible. Especially when you have a lot of them.
4 handy communication tools in WhatsApp Business
1) Post outside business hours.
This function is suitable for you when your company operates on specific days and hours. Then, if your client writes you a message outside of your working hours, he will receive an automatic reply. The standard message from WA Business is: "Thank you for your message. Unfortunately, we are not available at this time. We will definitely contact you as soon as possible. Of course, you can edit the message however you like.
In the settings, you can choose the users to whom this automatic message will be sent: all; everything except my contacts; everything, except for some individual contacts; only for certain contacts.
You can also choose exactly when you want your message to be automatically sent: always; outside working hours; non-standard hours (for example, if you are undergoing repairs or the company has temporarily ceased its activities for some reason).
2) Automatic greeting.
You can turn on automatic greetings for everyone who writes for the first time. A standard message from WA Business is: "Thank you for writing to Test Co! Tell us how we can help you?
You can also choose the users to whom you want to send these messages. The same as in the case of posting outside office hours.
3) Fast responses.
When communicating with clients, you always repeat the same things, answer the same questions. Sound familiar? I am sure that yes. This function will help you to simplify communication with clients at times. You create short keywords for frequently sent messages. For example, if you write "/ thank you", the application will automatically insert the message "Thank you very much for your order. We will be glad to see you in our store again ". Or / delivery will insert Delivery is free for orders over PLN 300. Conveniently, when you write /, you will see all the quick messages. This will come in handy in case you forgot a keyword.
4) Tags.
With a large flow of customers, you can get lost in who is who. Who is a new customer, who has already placed an order, who wants to make a return, and so on. In this case, using labels will help you. You just need to open your client's profile, enter the tags, and select one from the list, or create your own. Thus, in your chats, each designated customer will have a tag under their number. As shown in the figure below.
Additional WhatsApp Business features
And the last two features that you might find useful in your business.
Connecting your  WhatsApp Business   profile to Facebook.
Create a quick link in the format https://wa.me/message/T1T1T1TT1T1TT. This way, you will be able to send this link to your customers on your social networks or on your website. By clicking on it, your client will open a chat with your company in the WhatsApp application. Alternatively, you can create a message template from your client. He will be able to edit it at will. For example, a template might sound like this. Good afternoon! I was interested in one of the products ...
For all other features not mentioned in this article,  WhatsApp Business   is no different from WhatsApp.
WhatsApp Business. For whom?
WhatsApp Business is a great solution for small and medium business owners. Moreover, you can use this application as a business card. Or in the case when you want to have two separate profiles in WhatsApp for a private and business number. And all on one mobile device. The app is also available for PCs, just like in the case of WhatsApp. If you work in a large corporation, you should pay attention to the WhatsApp product - WhatsApp API. There are even more features available. The profile can be used by several people at once from different mobile devices.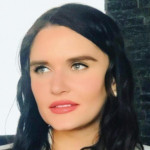 Sasha Firs blog about managing your reality and personal growth
Sasha Firs writes a blog about personal growth, from the material world to the subtle one. She positions herself as a senior learner who shares her past and present experiences. She helps other people learn to manage their reality and achieve any goals and desires. 
Frequently Asked Questions
Can I use WhatsApp business and standard account on the same device?

You will be able to use two separate WhatsApp apps on the same phone. In this case, it is not at all necessary to have a phone with two SIM cards. In addition, the functionality of the new application will help you simplify your business, create product c
---
---
---