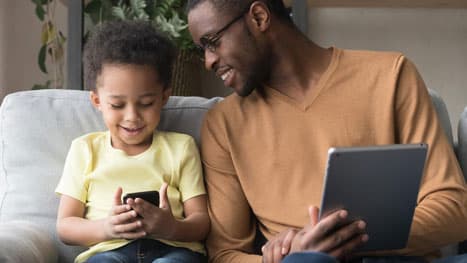 ---
---
When Smartphones were introduced, people considered them handy for business use only. This perception changed quickly when more and more classes of people adopted the technology. In addition to business, individuals use mobile devices for a myriad of personal activities. Social media sites such as Snapchat and Facebook aren't an exception here.
The good news is even youngsters tap the potential of social networks for educational and other purposes. However, the downside is a significant number of children take the wrong path through Snapchat and Facebook. So, how to monitor your kids Snapchat? You can track your child's social media through uMobix and other options.
How to monitor your kids Snapchat?
The application is aimed at a fairly young audience, which is why Snapchat monitoring is so relevant for parents. The essence of popularity among young people is that it is an opportunity to exchange not just text messages, but also funny pictures, photos, selfies and short videos.
Relevance among young people at Snapchat is also because their parents do not use the application.
Modern parents give enough freedom to their kids. On one hand, it comes as a big perk for a child's development. However, leaving your child's social media accounts unchecked can be disastrous. Snapchat lets you share photos and videos on the go. This is why many kids get attracted to this intriguing platform. However, a large number of children fall into the wrong path due to misleading pictures and videos. You must monitor your child's Snapchat activities to avoid any undesirable situations.
Why should you monitor Snapchat?
Snapchat doesn't have a consistent filter. Anyone can post adult content without your knowledge. A user, including your child, can view any such content by tapping on it. The sad part is there's hardly any thumbnail that explains what the post contains. You can open the post to find that it's a photo of cute puppies kissing each other. At times, you can stumble upon an image of a person's genitals.
As a responsible parent, you must ensure that your kid doesn't get lured by hurtful pictures. Also, you need to keep your teenager from contacting criminal-minded individuals. What if your child gets addicted to viewing adult or crime content? If so, his life will get compromised. For these reasons, you may want to monitor Snapchat through uMobix or other options. Here's how to do that.
Enable parent control on Snapchat
First of all, enable parental controls on Snapchat to keep your child safe from potential dangers. The platform provides built-in parent control features. Children can allow anyone to see who they contact and what they share on the platform. A child can also report undesirable content that he finds on the app.
The downside of the parental control option is you need the account details of your kid. Secondly, a child may mute control and check undesirable content. He may then allow parental control after finishing his activities. So, you can't figure out what happened in between. Also, your teenager may argue for invading his privacy.
Use uMobix
Monitoring a child's Snapchat without his knowledge looks like a much better option. Many social media monitoring apps exist. However, not all of them are worth your attention. You need an app that allows comprehensive access to your child's Snapchat activities. This is where uMobix comes into play.
The app lets you track your child's whereabouts on Snapchat without his knowledge. All you should do is sign up for uMobix subscription and install the app on your kid's handset; that's all. Within a matter of minutes, you're all set to monitor your child's Snapchat activities. You can remove the app icon so that your kid doesn't know there's a monitoring app.
Umobix is incredibly safe. There's no need to worry about any risks. Most importantly, using the app is straightforward. You may easily find out who your children contact and text, and what they see on Snapchat. Plus, you get to know how much time they spend on the platform. In line with your assessment, you can take appropriate steps to check your child's changing behavior.
Finishing thoughts
Snapchat can be a wonderful social media platform for kids and adults alike. However, this innovative site is often used to lead teenagers and kids into undesirable activities. You need Snapchat monitoring to avoid problems stemming from social media misuse. You can either track a child's Snapchat through the parental control feature of the platform or by using uMobix. However, uMobix is a better bet as it lets you check everything that your child does. Go through the features of the uMobix app and enjoy seamless monitoring.
Frequently Asked Questions
What is the best way to control kids on Snapchat?

To control kids on Snapchat, use uMobix. This is a great phone tracker app. This app gives you full access to your child's Snapchat and phone activities in general.

How to install parental monitoring SnapChat?

Turn on device restrictions and set up parental controls or restrictions. Install a monitoring app such as uMobix, Bark, mSpy or Net Nanny. Customize Snapchat monitoring and its settings to suit your preferences. This may include options such as monitoring messages, tracking friend requests, or detecting inappropriate content.
uMobix Review And Complete Demo: Cell Phone Tracker For Parents
---
Explore Your Business Potential: Discover Our Range of Transformative Courses Today!
Unveil the power of knowledge with our diverse array of courses, from Operational Procurement in S/4HANA to SEO essentials. Elevate your expertise and drive success in your business ventures.
Get your course
---
---