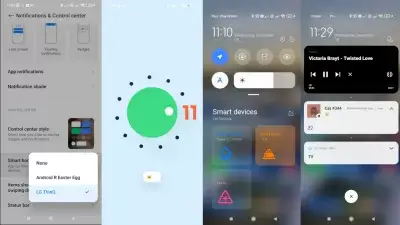 ---
---
Hidden games on Android always attract users with their intrigue and interactivity. They are looking for secret passages and ways to find these encrypted messages. This time, Android 11 is no exception and is ready to please its users with a game about cats.
Surely no one would have believed that the owners of smartphones on the Android 11 operating system can collect a collection of virtual cats that can be fed and played with. And no, this is not a joke.
Any smartphone with Android 11 installed has this hidden cat game, it can be unlocked thanks to a hidden feature hardcoded in Android settings.
How do I start the cat game?
First you need to take your phone, open Settings and click on the About phone menu. In this menu, the user should find Android version. You need to click on the Android version several times for a green Easter egg to appear.
Although, it rather looks like not even an egg, but a volume wheel, nevertheless the attentive will notice that there are only ten points around the wheel. How do you open the game?
The dial must be moved from the minimum value (1) to the maximum value (10). This must be done back and forth three times. The third time, the user will see that the number 11 has appeared, and this is what we were looking for! Now the dial must be moved to the position of the number 11, at this moment a small image of a cat will appear at the bottom of the screen.
When everything worked out with the Easter egg, you can proceed to the next simple stage. The user must, without leaving the game, hold down the Android power button and click on the Device control option.
If you do not see the smart home toggle options, try to either activating the "Device Control" option in settings → gestures → power, or to change the smart home app to the "Android R Easter Egg" option in settings → notifications & control center.
The user should now see the new Cat Controls menu. Here you need to include all three parameters: water and food for cats, as well as toys.
After carrying out all these manipulations, the lucky owner of Android 11 can feed, water and play with his cats. But they will not appear immediately after enabling all these functions, you will need to wait a little. When the kitty is ready to appear, the user will receive a special notification about this. You will have to pull it down, click on the cat, and then it will be added to the collection.
That's the whole trick - Android 11 offers to collect a collection of cats. This is a process that cannot be rushed, but it will make you occasionally distracted and smile at the sight of cute animals. In order for the collection to be replenished with new cats, you need to feed and play with them.
Frequently Asked Questions
What are the hidden games on Android 11?

Any smartphone has an entertaining cat game Android 11. After all these manipulations, you can feed, water and play with your cats. But they will not appear immediately after enabling all these functions, you will need to wait a bit.
---
---