---
---
Application developers never cease to amaze us at how far they can go. Think for yourself. Even 10 years ago, no one would have thought that with a few clicks of your fingers you can, say, retouch a face in a photograph, change the color of your hair, or see yourself in old age.
And today, these fun functions are available to absolutely everyone. Even without basic knowledge of using graphic editors. In this article, we'll take a look at the best face swap app that blew up the entire internet. Try on the role of the hero of your favorite movie or musician. Insert your face into iconic GIFs. Go!
What is Reface?
Reface (formerly Red) is an absolute hit of the Internet, created in Ukraine. The app was released in January 2020. At the time of this writing, Reface has been in the top most downloaded apps worldwide for several months. The application mechanism is based on the so-called deepfake technique. Yes Yes.
It is she who is used to create fake news - the very ones where Kate Middleton starred in an adult film, and Leonard DiCaprio becomes homeless - you get the idea. However, the developers of the application completely deny any connection with fake news. By November 2020, over 50 million people have downloaded ReFace. If it goes on like this, the application has every chance to rise on a par with such giants as Netflix, TikTok, Youtube.
How to download and start using Reface?
The app is available for iPhone and Android. You can download it absolutely free.
In order to start using the application, you will be prompted to choose one of two subscriptions. Reface blew up the Internet, so it has the right not to refer to itself as a free application.
First subscription for 1 year - costs approximately $ 32. The second one is for 1 week - this subscription will cost $ 3.2. But the developers have provided an opportunity to try the application for free for three days. To do this, you should choose a 1 year subscription.
You don't have to worry about your money - $ 32 will be automatically debited from your card only on the third day. And only on condition that you do not cancel the subscription in the settings of your phone before this moment.
I personally canceled the subscription immediately after I turned it on. In any case, even after canceling, you can still use the application for these three days. Just after their expiration, the subscription will not be renewed and you will no longer be able to use Reface.
Reface menus and functions
Once you've figured out the subscription, all you need to do is take a selfie or choose from those available on your phone. It is important that the photo is with good lighting, strictly in front view, and without a smile. In this case, you will get the highest quality results at the output. In order not to bother - I uploaded my photo for documents.
The bottom menu bar has 4 icons.
1) Home
As you can see at the top of the screenshot, you can choose one of the selections:
Selected (Try yourself as Gia, Pablo Escobar, Gisele Bundchen, Tony Montana or Victoria's Secret model. You can also insert your face into GIF animation from ReFace and surprise your friends)
Musicians (such as Snoop Dogg, Riana, Lady Gaga, Justin Bieber and others)
Movie Heroes (Such as Joker, Mad Max, Daenerys, Trinity and others)
Pro content, which will also be available to you in a 3-day trial version (super-quality and beautiful clips. Insert an owl face into the hero of Matilda from Leon, Wolf of Wall Street or Cleopatra)
All tested animations you can freely download to your phone in video or GIF-animation format. In addition, right from the application, you can share the created masterpiece on Whatsapp or messenger with your friends.
2) Search engine
As the name suggests, in this menu bar you can write any search word and find your favorite GIFs, where of course you can also insert your face. Moreover, the search takes place not only in the ReFace database, but also in all known Tenor, which we use, for example, on Facebook.
3) Saved
In the third panel, you will find all GIFs saved to your phone.
4) Personal account
In the last tab, you can upload and delete your added photos. Also, keep track of your subscription, contact those. support if necessary, and enable / disable watermarks.
Best alternative to face app
Face Swap Live
Face Swap Live can record video with the Face Swap effect in real time, and this feature is rare.
FACE SWAP BOOTH
This application contains a rich set of photo manipulation tools. True, there is no automatic recognition here. Replacing faces takes place manually in several stages, but this is a plus: the user has much more control over the effect.
SNAPCHAT
Snapchat was the first app to have a face swap feature. Over time, the developers improved it and supplemented it with the ability to substitute your face on the video. The desired filter is called Face Swap, it can be found through the search bar.
FACEOVER
Of all the options listed, Faceover is more like a full-fledged photo editor than others. It contains tools for detailed image processing. Also available are the functions of changing the size and quality of the photo, the ability to upload multiple photos.
BANUBA
Banuba's functionality is not limited to just one face swap. It has a lot of fun filters that you will definitely want to try on your selfies.
How do I replace my face in the ReFace app?
Now let's see how this works with an example. After you have found a GIF or video that you liked, you need to select in advance which photo you want to use if you have several uploaded. In addition, in some videos, if several people are present, you can insert several faces at once - your own or, for example, yourself and your friends.
In the picture below, I inserted my face into two people at once: Queen Elizabeth and Duchess Catherine. Then you just have to press Reface, and you will get the result in a matter of seconds.
Download the ReFace app and share with your friends.
This application will at least take your entire evening. A great mood is guaranteed. Try now.
And finally, here are some amazing results on face replacement in the ReFace app;) Have a good mood!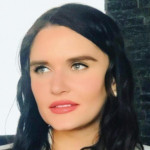 Sasha Firs blog about managing your reality and personal growth
Sasha Firs writes a blog about personal growth, from the material world to the subtle one. She positions herself as a senior learner who shares her past and present experiences. She helps other people learn to manage their reality and achieve any goals and desires. 
Frequently Asked Questions
What is the phenomenon of the Reface application?

Reface is an absolute hit of the Internet, created in Ukraine, it is an app that switches faces. This is what is being used to create fake news. You can try on the role of the hero of your favorite movie or musician, you can insert your face wherever you
---
---
---